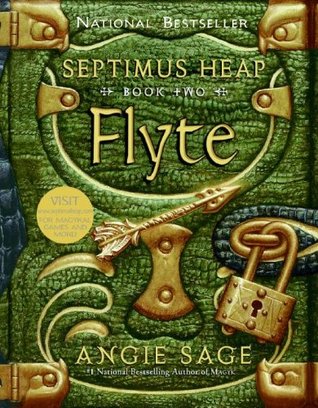 Goodreads Summary:
It's been a year since Septimus Heap discovered his real family and true calling to be a wizard. As Apprentice to Extra Ordinary Wizard Marcia Overstrand, he is learning the fine arts of Conjurations, Charms, and other Magyk, while Jenna is adapting to life as the Princess and enjoying the freedom of the Castle.
But there is something sinister at work. Marcia is constantly trailed by a menacing Darke Shadow, and Septimus's brother Simon seems bent on a revenge no one understands. Why is the Darke Magyk still lingering?
Bringing fantasy to new heights, Angie Sage continues the journey of Septimus Heap with her trademark humor and all of the clever details readers have come to love.
Goodreads Rating:
3.99 with over 56,000 ratings
Genre Listing:
Fantasy, Young Adult, Magic
Get The Book:
Amazon
,
Book Depository
Reading Challenge:
#28 a Book with a Green Cover
Book Review
Flyte is the second book in the Septimus Heap series by Angie Sage. I completely adored the first book
Magyk
. It was clever and imaginative that had a great sense of humor. Flyte somewhat fell short for me, comparatively. It lost a lot of the dynamic between the characters that I appreciated. It all just felt kind of flat.
There weren't any real surprises in the plot line, and I felt like Simon made a terrible villain. He mostly just came across as a spoiled brat who didn't get his way. I think part of why I liked Magyk so much was because of the various little side stories and thought processes that were shown for other characters. Flyte still had them, but it was more about Septimus vs. Simon instead and lost a lot of the adventure feeling.
I think for me the thing that Flyte was missing the most was the supporting details. I wasn't completely immersed in the story like I was for Magyk. I still enjoyed it, but I'm not going around and telling everyone I know to read it like I did with the first book. I did go ahead and put the third book on my Kindle, so I'm still into the story, just probably set my expectations too high for a sequel. I did appreciate that the book ended with little connection between the supporting characters, so it made up for some of the lack of detail.