Greetings from Canada! The husband and I are visiting a friend, I thought I needed to hit up a Canadian Bookstore. We're heading back home, but today we decided to stop into a Chapters. It was really nicely set up, a little on the pricey side though even when you factor in the conversion rate. That being said, I'm pretty happy with the books I got. I think they are all going to be pretty interesting.
Book Haul
Initial Thoughts: I actually didn't pick this one out. Chris did, it's one we've both been meaning to read, and I just haven't gotten around to buying it. I'm not usually one for alien stories, but I've been told I need to read it. I'll probably let the husband-person read it first before I dive into it. It's been rated over 860,000 times and has an average of 4.69 stars.
Goodreads Blurb- "Andrew "Ender" Wiggin thinks he is playing computer simulated war games; he is, in fact, engaged in something far more desperate. The result of genetic experimentation, Ender may be the military genius Earth desperately needs in a war against an alien enemy seeking to destroy all human life. The only way to find out is to throw Ender into ever harsher training, to chip away and find the diamond inside, or destroy him utterly. Ender Wiggin is six years old when it begins. He will grow up fast.
But Ender is not the only result of the experiment. The war with the Buggers has been raging for a hundred years, and the quest for the perfect general has been underway almost as long. Ender's two older siblings, Peter and Valentine, are every bit as unusual as he is, but in very different ways. While Peter was too uncontrollably violent, Valentine very nearly lacks the capability for violence altogether. Neither was found suitable for the military's purpose. But they are driven by their jealousy of Ender, and by their inbred drive for power. Peter seeks to control the political process, to become a ruler. Valentine's abilities turn more toward the subtle control of the beliefs of commoner and elite alike, through powerfully convincing essays. Hiding their youth and identities behind the anonymity of the computer networks, these two begin working together to shape the destiny of Earth-an Earth that has no future at all if their brother Ender fails."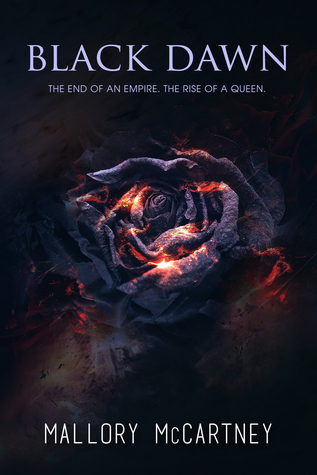 Initial Thoughts: As soon as we walked into Chapters, there was a shelf of local authors. I felt like I should definitely get a book from this shelf. This one sounded interesting enough, and it was a signed copy. I guess Mallory McCartney had been in the store recently doing a book signing.
Goodreads blurb about the book- "Emory Fae enjoys leading a quiet, normal life. That is until two mysterious, and handsome soldiers show up at her apartment, and the life she knew is instantly whisked away. Memphis Carter and Brokk Foster come from the magical and war-ridden world of Kiero, and upon Emory's arrival, she will discover she is the long-lost heir to the Royal Line and is thrown into the Black Dawn Rebellion with a dynamic role to ignite the rebels and reclaim her throne.
With both men being darkly woven in her past Emory uncovers hidden secrets, a power held long dormant, and will soon realize there are worse things than supernatural humans, love, loss, betrayal, and a Mad King." This one is a short read at only 186 pages.
Initial thoughts: I think I looked at The Demonologist by Andrew Pyper before and didn't pick it up. I'm really hoping this one will be decent and scary, and demonology isn't something I've read much on before.
Here's the blurb from Goodreads- "A STOLEN CHILD, AN ANCIENT EVIL, A FATHER'S DESCENT, AND THE LITERARY MASTERPIECE THAT HOLDS THE KEY TO HIS DAUGHTER'S SALVATION
Professor David Ullman is among the world's leading authorities on demonic literature, specializing in Milton's Paradise Lost. Not that David is a believer—he sees what he teaches as a branch of the imagination and nothing more. So when the mysterious Thin Woman arrives at his office and invites him to travel to Venice and witness a "phenomenon," David is hard-pressed to overcome his skepticism.
But there are forces at work beyond anything David can imagine, and they will stop at nothing to ensure that the professor does not escape their grasp. Against his better judgment, David, accompanied by his beloved daughter, Tess, finds himself traveling to Venice, where an unspeakable horror awaits.
Soon David is pulled into a journey that will redefine what he is willing to believe. Guided by symbols and riddles from the pages of Paradise Lost, David races to save his daughter. If he fails, he will lose Tess forever." It doesn't have a lot of reviews yet and has a 3.3 average rating, so we'll see how it goes.


Initial Thoughts: A Great and Terrible Beauty by Libba Bray is a book I've been after for a very long time. I adored Libba Bray's writing style in both The Diviners and Lair of Dreams. I think in Lair of Dreams Gemma Doyle was very briefly mentioned, and I want to see if there's some tie-in to the two series. I have a lot of friends who have read this on Goodreads, and most of them have given it decent ratings, so I'm curious to see if I like it as well.
Goodreads blurb- "A Victorian boarding school story, a Gothic mansion mystery, a gossipy romp about a clique of girlfriends, and a dark other-worldly fantasy—jumble them all together, and you have this complicated and unusual first novel.
Sixteen-year-old Gemma has had an unconventional upbringing in India, until the day she foresees her mother's death in a black, swirling vision that turns out to be true. Sent back to England, she is enrolled at Spence, a girls' academy with a mysterious burned-out East Wing. There Gemma is snubbed by powerful Felicity, beautiful Pippa, and even her own dumpy roommate Ann until she blackmails herself and Ann into the treacherous clique. Gemma is distressed to find that she has been followed from India by Kartik, a beautiful young man who warns her to fight off the visions. Nevertheless, they continue, and one night she is led by a child-spirit to find a diary that reveals the secrets of a mystical Order. The clique soon finds a way to accompany Gemma to the other-world realms of her visions "for a bit of fun" and to taste the power they will never have as Victorian wives, but they discover that the delights of the realms are overwhelmed by a menace they cannot control. Gemma is left with the knowledge that her role as the link between worlds leaves her with a mission to seek out the "others" and rebuild the Order."
Goodreads Blurb- "The children of world leaders, are held hostage in an attempt to keep the peace in this "slyly humorous, starkly thought-provoking" (Kirkus Reviews, starred review) novel.
Greta is a Duchess and a Crown Princess. She is also a Child of Peace, a hostage held by the de facto ruler of the world, the great Artificial Intelligence, Talis. This is how the game is played: if you want to rule, you must give one of your children as a hostage. Start a war, and your hostage dies.

The system has worked for centuries. Parents don't want to see their children murdered.

Greta will be free if she can make it to her eighteenth birthday. Until then she is prepared to die with dignity, if necessary. But everything changes when Elian arrives at the Precepture. He's a hostage from a new American alliance, and he defies the machines that control every part of their lives—and is severely punished for it. His rebellion opens Greta's eyes to the brutality of the rules they live under, and to the subtle resistance of her companions. And Greta discovers her own quiet power.

Then Elian's country declares war on Greta's and invades the prefecture, taking the hostages hostage. Now the great Talis is furious, and coming himself to deliver punishment. Which surely means that Greta and Elian will be killed...unless Greta can think of a way to break all the rules."

Initial Thoughts: I'll be honest, this was a total buy because of the cover, but it does sound interesting. I think it's going to end up being a little cheesy, so I'm not counting on being insanely in love with it. Just based on the back cover, it seems a bit Hunger Games meets Red Queen.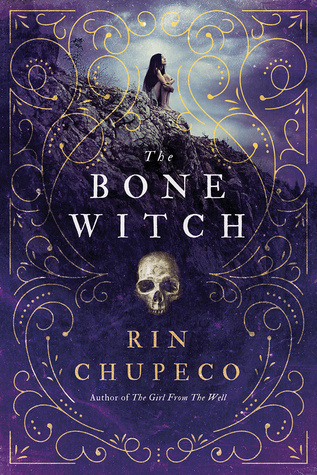 Initial Thoughts:
This is another book I picked up for the cover and title. It seems morbid and pretty at the same time. There's a bit on the back that caught my interest. "Let me be clear: I never intended to raise my brother from his grave, though he may claim otherwise. If there's anything, I've learned from him in the years since it's that the dead hide truths as well as the living." It seems like a different twist on witches, so I'm all for it.
Here's the Goodreads blurb-
"The beast raged; it punctured the air with its spite. But the girl was fiercer.
Tea is different from the other witches in her family. Her gift for necromancy makes her a bone witch, who are feared and ostracized in the kingdom. For theirs is a powerful, elemental magic that can reach beyond the boundaries of the living—and of the human.
Great power comes at a price, forcing Tea to leave her homeland to train under the guidance of an older, wiser bone witch. There, Tea puts all of her energy into becoming an Asha, learning to control her elemental magic and those beasts who will submit by no other force. And Tea must be strong—stronger than she even believes possible. Because war is brewing in the eight kingdoms, war that will threaten the sovereignty of her homeland…and threaten the very survival of those she loves." I think this is one of the books I'm most excited to read.
Edit:
The Bone Witch review
Initial thoughts: Chris actually saw this one and picked it out for me. It sounds fascinating and puts two worlds in historical London. One world has magic, the other doesn't. I like magic, and I love historical fiction, so I'm pretty interested. It's got a 4.0 average rating and 67,000 ratings. I'm pretty excited to read it.
Here's the blurb from Goodreads- "Kell is one of the last Antari—magicians with a rare, coveted ability to travel between parallel Londons; Red, Grey, White, and, once upon a time, Black.
Kell was raised in Arnes—Red London—and officially serves the Maresh Empire as an ambassador, traveling between the frequent bloody regime changes in White London and the court of George III in the dullest of Londons, the one without any magic left to see.

Unofficially, Kell is a smuggler, servicing people willing to pay for even the smallest glimpses of a world they'll never see. It's a defiant hobby with dangerous consequences, which Kell is now seeing firsthand.

After an exchange goes awry, Kell escapes to Grey London and runs into Delilah Bard, a cut-purse with lofty aspirations. She first robs him, then saves him from a deadly enemy, and finally forces Kell to spirit her to another world for a proper adventure.

Now perilous magic is afoot, and treachery lurks at every turn. To save all of the worlds, they'll first need to stay alive."
Initial Thoughts: Eragon is another book that I've meant to read forever and just haven't gotten around to it yet. I figure if I actually have it on hand I'm way more likely to read it. This series is insanely popular and has been for a while now, so I'm interested to see how I feel about it.
Goodreads blurb- "Fifteen-year-old Eragon believes that he is merely a poor farm boy—until his destiny as a Dragon Rider is revealed. Gifted with only an ancient sword, a loyal dragon, and sage advice from an old storyteller, Eragon is soon swept into a dangerous tapestry of magic, glory, and power. Now his choices could save—or destroy—the Empire."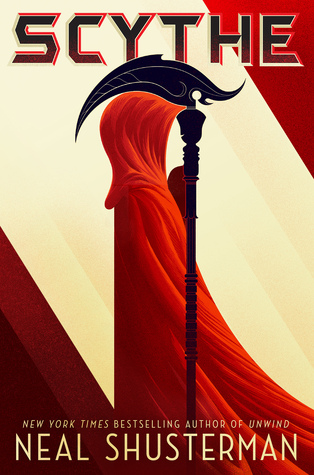 Initial Thoughts:
This is another one that was chosen for the cover. I don't know what it was, but a lot of the covers were gorgeous, and I was just drawn to some. This book sounds so interesting. I've already liked the grim reaper style of the genre, but I think this is going to take it on an exciting twist where they're the only ones who can bring on death.
Here's the Goodreads blurb-
"Thou shalt kill.
A world with no hunger, no disease, no war, no misery. Humanity has conquered all those things, and has even conquered death. Now scythes are the only ones who can end life—and they are commanded to do so, in order to keep the size of the population under control.
Citra and Rowan are chosen to apprentice to a scythe—a role that neither wants. These teens must master the "art" of taking life, knowing that the consequence of failure could mean losing their own.
"

Edit: Scythe Review
I'm so excited about all of the books I bought today. I probably shouldn't have got more books when I just got a ton of books and am moving next week, but I'm in a different country on vacation. I was obligated entirely as a reader and blogger to explore a bookstore that was new to me, right? Right.