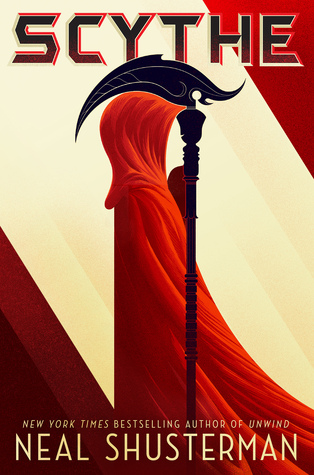 Goodreads Summary:
Thou shalt kill.
A world with no hunger, no disease, no war, no misery. Humanity has conquered all those things and has even conquered death. Now scythes are the only ones who can end life—and they are commanded to do so, in order to keep the size of the population under control.
Citra and Rowan are chosen to apprentice to a scythe—a role that neither wants. These teens must master the "art" of taking life, knowing that the consequence of failure could mean losing their own.
Goodreads Rating:
4.29 stars with over 9,900 ratings
Genre Listing:
Young Adult, Science Fiction, Dystopian, Fantasy
Get the book:
Amazon
,
Book Depository
Reading Challenge:
#40 A Dystopian Novel
Link to Book Haul:
Canadian Book Haul
Review:
I'm not sure what it says by me as a person that I'm completely fascinated by anything involving a grim reaper type of being. Scythe by Neal Shusterman was no exception to this. I was instantly drawn into this dystopian adventure. I think something that instantly drew me in was the concept that everyone was immortal because science and technology had advanced so far. The average person is several hundred years old, and life for them is just about maintaining. The Scythedom is supposed to be a compassionate group that's incorruptible, but we soon find it's anything but.

I liked so much about this book that I'm probably going to gush. I thought it was extremely clever and well thought-out. I was constantly surprised by it, and it never felt like I was able to predict what was going to happen next. I really liked the idea that the scythes were supposed to be these compassionate beings who suppose to be morally above everyone else. The details in the book were very interesting, including each Scythe getting to chose the color of their robes and the method of kill they used. It all made for a very nice touch.

Character wise I think Scythe Curie was my favorite, and I appreciated the different insight into the Scythe life that she and Scythe Faraday provided. I really enjoyed the different Sychte journal entries that were provided to give a more in depth view of the characters. I didn't really feel like I related to Citra or Rowan, but I didn't despise them. I thought the romance between the two of them was kind of silly, but it provides the necessary motivation for a lot of the key pieces of the story. Overall, I just didn't feel like Citra and Rowan had a lot of depth to them initially, though I ended up really liking both of them in the end.

I felt like Citra's choice in Scythe name was excellent. In my mind, I was trying to piece together who she would pick, and I wasn't even remotely close. I think there's a bit of tongue and cheek humor with a lot of the book, and I appreciated it. I had told one friend while I was reading it that it was "deliciously morbid."

I have a feeling that this series is going to be one of my favorites. I can't recommend Scythe enough.