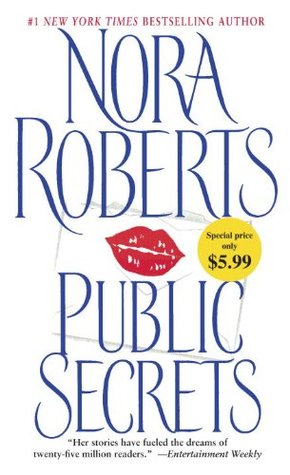 Goodreads Summary:
From Nora Roberts, the incomparable New York Times bestselling author of Sanctuary and Montana Sky, comes a mesmerizing story of a woman trapped by a dangerous desire and threatened by a murderous secret, one of Nora Roberts's most popular novels. Emma. Beautiful, intelligent, radiantly talented, she lives in a star-studded world of wealth and privilege. But she is about to discover that fame is no protection at all when someone wants you dead....
All she has to do is close her eyes and she remembers the magical day her father came into her life. She was a frightened, lonely toddler, hiding, always hiding, from her mother's wrath, when Brian McAvoy swept in and took her away. She didn't know then that she was his illegitimate daughter or that she had just been rescued by pop music's rising new star. All she knew was that suddenly she felt safe.
And there wasn't only Brian...his new wife became Emma's loving stepmother, his band members became her surrogate uncles, and soon Emma even had a new baby brother to care for. Then just when everything seemed perfect, a horrifying event shattered all their lives: a botched kidnapping attempt, shocking the
world, traumatizing Emma, leaving her bereft of her newfound happiness.
Yet now, after so many years of pain and guilt, of being overprotected and hounded by the press, Emma finally feels as if she's put the tragedy behind her. A determined, self-sufficient young woman, she has carved out a thrilling career, and even dared to fall rapturously in love. But the man who will become her husband isn't all that he seems. And Emma is about to awaken to the chilling knowledge that the darkest secret of all is the one buried in her mind--a secret that someone may kill to keep.
With Public Secrets, Nora Roberts has woven an absorbing tale of a woman you can't help but care for, trapped in a terrifying web of suspense that will keep you reading long into the night.
Goodreads Rating:
3.94 stars with over 10,000 ratings
Genre Listing:
Romance, Romantic Suspense, Fiction, Contemporary, Mystery
Get the Book:
Amazon
,
Book Depository
Reading Challenge:
#46 a Romance Novel
Book Haul: January 2016
Review:
Let it be known that my Sister-In-Law is a damn enabler. She and I went to Half Priced Books back in January, and I told her to pick me out a Nora Roberts book. This is one of her favorite authors, and she's always trying to get me to read Nora's work. I finally caved, and she picked out Public Secrets for me. I can not stress enough that I could not put this book down. I was completely engrossed in this book. I found myself doing a little bit of work and then reading a few chapters, going back to work, and stopping to read a few more chapters. And then staying up way late into the night to finish it. I actually had the book done a few days ago, I've just been trying to catch up from reading it that I haven't been able to do a post about it. I'm in trouble because I know Nora has like 800 books, so I'm probably never getting anything done ever again if I try to read any more of them.

This book has just about everything, rockstars, romance, mystery, awesome characters, less than savory characters. It's incredibly well-written, and I liked how the tone of the book changed with Emma aging. The book starts off when Emma is just three and is living with her awful excuse of a mother. Jane Palmer, Emma's mom, is a coniving terrible witch of a woman. Everything about Jane made me disgusted and feel sorry for Emma and Brian for having to deal with that woman. Luckily, it made Emma into a really strong character. I instantly felt sorry for her and wanted to read about her growing up and getting beyond all the hurt caused by Jane. I think that Emma is one of the strongest characters I've read about, at least any time recently. She overcomes a great deal of pain to eventually find happiness.
I thought Brian was an interesting character and showed a lot of depth. He was a rockstar, devoted husband, and father, but then he also had his flaws. I really felt like this book showed him working through a lot of his issues with the help of Emma. I liked his bandmates as well, with Johnno being my favorite. I thought he played the role of charming surrogate uncle very well.
I thought that the who Emma ends up with and who the killers were was pretty obvious for a good chunk of the story. It didn't really deter me in any way, there just wasn't any real shock and awe factor for me because of it. She definitely ended up with who I wanted her to end up with, and I think it played out in a really interesting way. The other one is completely vile, and not worth mentioning. That being said, he definitely gets what he deserves.
I loved this book, and can't wait to read more of Nora Roberts books. Though, I think I'll have to devote time to them as I'm sure I will not be able to put them down.