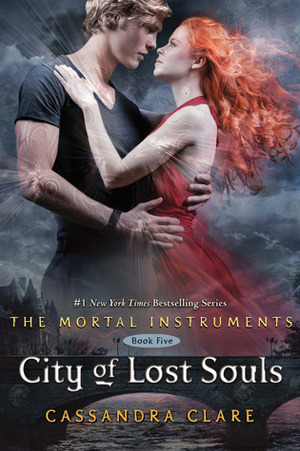 Goodreads Summary:
"The New York Times bestselling Mortal Instruments continues—and so do the thrills and danger for Jace, Clary, and Simon.
What price is too high to pay, even for love? When Jace and Clary meet again, Clary is horrified to discover that the demon Lilith's magic has bound her beloved Jace together with her evil brother Sebastian and that Jace has become a servant of evil. The Clave is out to destroy Sebastian, but there is no way to harm one boy without destroying the other. As Alec, Magnus, Simon, and Isabelle wheedle and bargain with Seelies, demons, and the merciless Iron Sisters to try to save Jace, Clary plays a dangerous game of her own. The price of losing is not just her own life, but Jace's soul. She's willing to do anything for Jace, but can she still trust him? Or is he truly lost?
Love. Blood. Betrayal. Revenge. Darkness threatens to claim the Shadowhunters in the harrowing fifth book of the Mortal Instruments series."
Goodreads Rating:
4.32 average, with 144,000+ ratings
Genre Listing:
Fantasy, Young Adult, Fantasy/Paranormal, Romance, Paranormal/Vampires, Paranormal/Angels, Fantasy/Urban Fantasy
Get the Book: Amazon, Book Depository
My other reviews of Cassandra Clare's books: Clockwork Princess, Clockwork Prince,
Clockwork Angel
Review:
Edited 11/24/2016
I've always had a love/hate relationship with the Mortal Instruments series by Cassandra Clare. I love the Shadowhunter world, but I don't care for Clary and Jace that much. I had just finished watching The Mortal Instruments movie, which seemed off to me. I knew it had been a while since I had read the first books in the series, so I took this as an opportunity to reread the series. I ended up catching up and reading the City of Fire while I was at it.
My biggest problem with Jace and Clary is that they are so completely absorbed in one another. Their friends are willing to die for them, but Jace and Clary come across as really selfish. I honestly cheered when Jocelyn put Clary in her place and told her that she's not meant to be with Jace. I think I'm still creeped out by their sort of incestuous relationship. I know they're not brother and sister, but for a lot of the series, they thought they were. So, it's rather gross.
Despite my typical disdain for Clary, I was actually proud of Clary in this book. I felt like she finally grew up quite a bit and she's finally honing in on her skills. Hurray, she's not entirely worthless. This is the first book where I felt like she was the heroine and not just the damsel in distress.
I found myself being way more interested in what was going on with Simon, Isabel, Alec, and Magnus than Clary and Jace. Then again, I've been Team Simon since City of Bones. The relationships between these four characters are way more interesting than Clary and Jace. My dislike for Clary and Jace is easy enough to get past because of everything else in this book, and thus the five out five rating. Truthfully, I prefer the Infernal Devices series to the Mortal Instruments series.
Five out of Five Moons