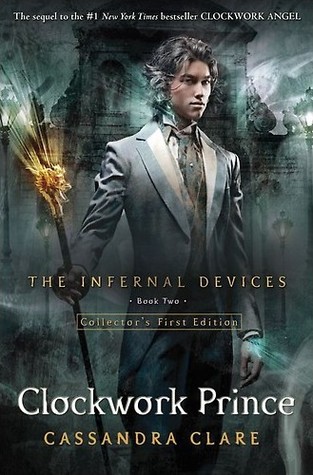 Goodreads Summary:
In the magical underworld of Victorian London, Tessa Gray has at last found safety with the Shadowhunters. But that safety proves fleeting when rogue forces in the Clave plot to see her protector, Charlotte, replaced as head of the Institute. If Charlotte loses her position, Tessa will be out on the street—and easy prey for the mysterious Magister, who wants to use Tessa's powers for his own dark ends.
With the help of the handsome, self-destructive Will and the fiercely devoted Jem, Tessa discovers that the Magister's war on the Shadowhunters is deeply personal. He blames them for a long-ago tragedy that shattered his life. To unravel the secrets of the past, the trio journeys from mist-shrouded Yorkshire to a manor house that holds untold horrors, from the slums of London to an enchanted ballroom where Tessa discovers that the truth of her parentage is more sinister than she had imagined. When they encounter a clockwork demon bearing a warning for Will, they realize that the Magister himself knows their every move—and that one of their own has betrayed them.
Tessa finds her heart drawn more and more to Jem, but her longing for Will, despite his dark moods, continues to unsettle her. But something is changing in Will—the wall he has built around himself is crumbling. Could finding the Magister free Will from his secrets and give Tessa the answers about who she is and what she was born to do?
As their dangerous search for the Magister and the truth leads the friends into peril, Tessa learns that when love and lies are mixed, they can corrupt even the purest heart.
Goodreads Ratings:
4.48 Stars with over 200,000 ratings
Genre Listing:
Fantasy, Young Adult, Paranormal, Romance, Historical Fiction
Get the book: Amazon, Book Depository
My other reviews of Cassandra Clare's books: Clockwork Princess, Clockwork Angel, City of Lost Souls
Review:
Edited 12/1/2016
I've said this before, and I will continue to say it; The Infernal Devices series is leaps and bounds better than the Mortal Instruments. It's hard not to compare the two since it's the same author and same world. I just feel that the characters in the ID books are much deeper. After reading the Infernal Devices, the Mortal Instruments falls flat for me. I think that Cassandra Clare does a great job with the Victorian era, and I like that these books aren't completely about boy-swooning. I mean there's still a lot of these stories, but I feel the characters are more worthy of being swooned over especially Jem.
This book was a lot slower pace than the first infernal device, but I liked that. I felt like it gave me more of a chance to get to know the characters. It gives you a better look into Will, James, and the Branwells. I enjoyed that Tessa took a back seat in this one, sort of. I mean she wasn't forgotten, and she's still obviously the main character, but I felt like it was less about her story, this time, around. I suspect that since there was so much information in this book, there will be a lot of action in the third book.
There were a few choice surprises that I want to talk about, but I can't because of spoilers. Not talking about them may kill me, just so you all know. I'm just going to leave it at go Jem. Have I proclaimed my team Jemness yet? I adore him. I think he's ultra smooth, and it's nice to have a book guy who's not a broody jerk. I wasn't sure I was going to want to read the third one right away, but after the last 50 or so pages, I think I'm going to have read it.
I love the amount of detail that went into this once, and I can't wait to read the third to see how it gets wrapped up. I'm hoping for a lot of action, and a lot of Jem and Tessa ;). I'll even support some brooding Will.
Ooh! Shadow Hunter news, for those of you who do not know. The CW channel (I think?) is working on a show based on Mortal Instruments. I believe that it's the same director or producer as the movie, but they know they didn't do it justice. Because of that, they're trying to fix it, and they are even recasting it. The recasting makes me happy because aside from Johnathan Rhys Myers I hated the cast. I adore JRM and even though he didn't look like Valentine did, I thought he did a good job with it.
Five Moons because of Jem.