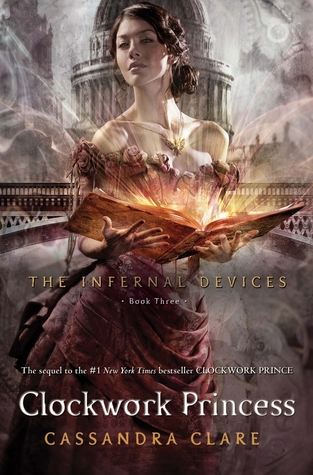 Goodreads Summary:
Danger and betrayal, love and loss, secrets and enchantment are woven together in the breathtaking finale to the #1 New York Times bestselling Infernal Devices Trilogy, a prequel to the internationally bestselling Mortal Instruments series.
THE INFERNAL DEVICES WILL NEVER STOP COMING
A net of shadows begins to tighten around the Shadowhunters of the London Institute. Mortmain plans to use his Infernal Devices, an army of pitiless automatons, to destroy the Shadowhunters. He needs only one last item to complete his plan: he needs Tessa Gray.
Charlotte Branwell, head of the London Institute, is desperate to find Mortmain before he strikes. But when Mortmain abducts Tessa, the boys who lay equal claim to her heart, Jem, and Will will do anything to save her. For though Tessa and Jem are now engaged, Will is as much in love with her as ever.
As those who love Tessa rally to rescue her from Mortmain's clutches, Tessa realizes that the only person who can save her is herself. But can a single girl, even one who can command the power of angels, face down an entire army?
Danger and betrayal, secrets and enchantment, and the tangled threads of love and loss intertwine as the Shadowhunters are pushed to the very brink of destruction in the breathtaking conclusion to the Infernal Devices trilogy.
Goodreads Rating:
4.58 stars with over 160,000 ratings
Genre listing:
Young Adult, Romance, Fantasy, Paranormal, Historical Fiction, Angels, Demons, Supernatural, Magical
Get the Book: Amazon , Book Depository
My other reviews of Cassandra Clare's books: Clockwork Prince, Clockwork Angel, City of Lost Souls
Review:
Edited 12/1/2016
Halfway through this book, I started asking my friend Kayla all kinds of spoiler questions. She wouldn't budge and give anything away, but she did tell me that "everything is how it's supposed to be." This couldn't be a more perfect way to sum this third installment of the Infernal Devices up. I know that the Mortal Instruments is the more famous of Clare's series, but I think this one is really what has her heart and soul in it.
One thing that I loved about the Clockwork Princess is that a lot of the characters got their own time to shine. Yes, the book primarily focuses around Tessa, Will, and Jem, but we also get to see a lot of behind the scenes with Henry, Charlotte, Jessamine, Sophie, and the Lightwoods. It made me feel a lot closer to these characters.
I don't want to say too much about this book because I don't want to spoil anything about it. I felt it was well done, and ended perfectly. I guess there will be a fourth ID book. This book ties up all of the loose ends, and like Kayla said; everything is how it's suppose to be. I've also been instructed that I need to read the latest MI book. The to-read list keeps growing. If you like the Shadow Hunters and have read, the other two ID books make sure to read this one too. Sorry for the short review on this. I just really can't say much without spoilers.
Five out of Five moons