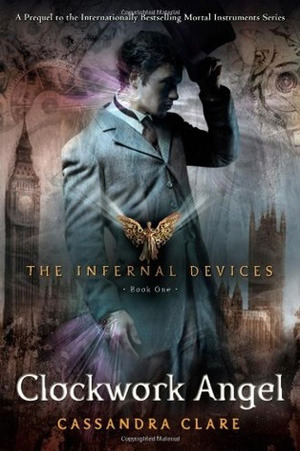 Goodreads Summary:
In a time when Shadowhunters are barely winning the fight against the forces of darkness, one battle will change the course of history forever. Welcome to the Infernal Devices trilogy, a stunning and dangerous prequel to the New York Times bestselling Mortal Instruments series.
The year is 1878. Tessa Gray descends into London's dark supernatural underworld in search of her missing brother. She soon discovers that her only allies are the demon-slaying Shadowhunters—including Will and Jem, the mysterious boys she is attracted to. Soon they find themselves up against the Pandemonium Club, a secret organization of vampires, demons, warlocks, and humans. Equipped with a magical army of unstoppable clockwork creatures, the Club is out to rule the British Empire, and only Tessa and her allies can stop them....
Goodreads Rating:
4.31 stars with over 323,000 ratings.
Genre Listing:
Paranormal, Angels, Historical Fiction, Fantasy, Young Adult, Teen, Adventure, Mystery, Science Fiction, Action
Get the Book: Amazon, Book Depository
My other reviews of Cassandra Clare's books: Clockwork Prince, Clockwork Princess, City of Lost Souls
Review:
Edited 12/1/2016
Happy Late Holidays to everyone! I hope whatever holiday you chose to celebrate was good to you. I finally got around to reading one of my Christmas presents, as you can see. The husband-folk did a good job. He got me this and the next two books in the infernal devices series. I, unfortunately, don't get much time to read anymore. I'm working about 50-60 hours a week, so posts are going to be few and far between. :(
I'm just going to come out and say it- I like the Infernal Devices more than I like the Mortal Instruments. With the MI series, I get tired of Jace, Clary, and their drama. I found Will, Jem, and Tessa to be refreshing, and I get a taste of old characters too - like Camille and Magnus. I had read this a while back, but how much I forgot about it astonishes me. It made it kind of like reading it for the first time again. Unfortunately, the things I did remember were the plot twists, so it was hard for me to get completely engrossed in it.
Will has some pretty comical moments, which I liked. If possible, he's even snarkier and more brooding than Jace is in MI. Jem, however, is a far better character in my opinion. He seems real and wise beyond his years. I think he has an interesting perspective on life because of what he's gone through. I'm interested in reading more about him in the next book. I don't dislike Will, but I'm less interested in seeing what happens with him.
It's going to be interesting to read more about Tessa and her journey to finding out who/what she is. There's a pretty nice glimpse of it in Clockwork Angel, so I'm hoping the next book doesn't disappoint. I'm intrigued to see how this connects with Mortal Instruments. I know it has to in some way, I just haven't pieced the how together yet. I'm also hoping that Jessie gets over herself in the next book. At this moment, I can't stand her and hope she gets punched in the face or something.
One of my favorite quotes from this book is:"Sometimes," Jem said," Our lives can change so fast, that the change outpaces our minds and hearts. It's those times, I think when our lives have altered, but we still long for the times before everything was altered- that is when we feel the greatest pain. I can tell you though from experience, you grow accustomed to it. You learn to live your new life, and you can't imagine, or even really remember, how things were before."
Overall I enjoyed this and am hoping to start the next book soonish. It didn't quite captivate me as much as I hoped it would, but it's still a good read.