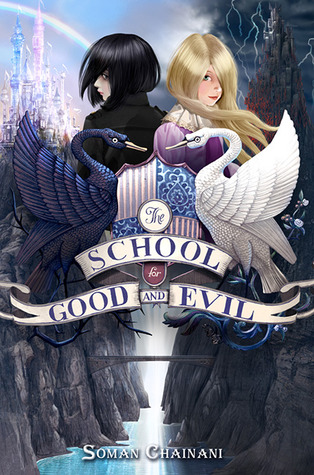 Goodreads Summary:
New York Times Bestseller * Indie List Bestseller * Soon to be a Film from Universal Pictures * A Barnes & Noble Best Book of 2013 * Waterstones Children's Prize Nominee * Children's Choice Reading List Selection
The first kidnappings happened two hundred years before. Some years it was two boys were taken, some years two girls, sometimes one of each. But if at first the choices seemed random, soon the pattern became clear. One was always beautiful and good, the child every parent wanted as their own. The other was homely and odd, an outcast from birth. An opposing pair plucked from youth and spirited away.
This year, best friends Sophie and Agatha are about to discover where all the lost children go: the fabled School for Good & Evil, where ordinary boys and girls are trained to be fairy-tale heroes and villains. As the most beautiful girl in Gavaldon, Sophie has dreamed of being kidnapped into an enchanted world her whole life. With her pink dresses, glass slippers, and devotion to good deeds, she knows she'll earn top marks at the School for Good and graduate a storybook princess. Meanwhile Agatha, with her shapeless black frocks, wicked pet cat, and dislike of nearly everyone, seems a natural fit for the School for Evil.
But when the two girls are swept into the Endless Woods, they find their fortunes reversed—Sophie's dumped in the School for Evil to take Uglification, Death Curses, and Henchmen Training, while Agatha finds herself in the School For Good, thrust amongst handsome princes and fair maidens for classes in Princess Etiquette and Animal Communication.. But what if the mistake is actually the first clue to discovering who Sophie and Agatha really are…?
The School for Good & Evil is an epic journey into a dazzling new world, where the only way out of a fairy tale is to live through one.
Goodreads Rating:
3.96 stars with over 15,000 ratings
Genre Listing:
Fantasy, Children's, Young Adult, Fairy Tales, Magic, Romance, Fiction, Adventure, Witches
Get the Book:
Amazon,
Book Depository
Review:
Edited 12/1/2016
Yay! I read a book off my TBR list I mentioned earlier. I'm proud of myself as I've wanted to read this one for a while.
The School for Good and Evil by Soman Chainani is a very charming story centered around fairy tales. I'm not sure why, but I've been on a fairy tale kick lately. Two girls - Sophie and Agatha- are whisked away to become students. One is to be a student of good and the other a student of evil. Of course, all of the best fairy tale characters were trained at this school.
I'm not sure if this was supposed to be satire or not, but I found most of the "good" students to be utterly repulsive in attitude. They're very shallow and only concerned about looks and being liked by princes. I think that might have been the point, though.
I adored Agatha, and I believed that the evil students were rather charming. I thought Agatha was very brave and the true embodiment of "Good." I genuinely enjoyed that she decided she didn't need a prince and knocked Tredos down a few pegs.
I enjoyed that it included bits from other fairy tales and referenced things like Sophie's pet being aptly named "Grimm." I thought the story had a great sense of humor. One quote I liked from it was "The gargoyles have orders to kill intruders on sight and have yet to grasp the difference between student and intruders-." That gave me a nice chuckle. I will say that this is geared towards middle-grade readers, but I think it's a bit dark and violent for that age group. I'm not a parent or a teacher, though, so keep that in mind if you plan on letting your kiddos read it.
I know that there are two more books in the series, but I probably won't read them. It's not that I didn't enjoy this book because I did. I just feel like the first book had an excellent ending to it. Not everything needs to be a series.