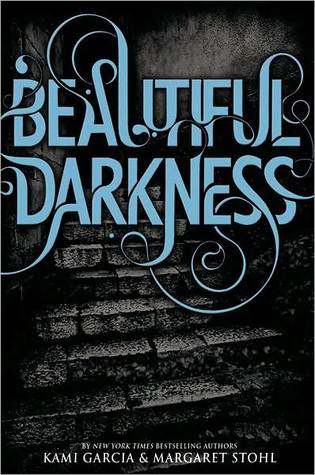 Goodreads Summary:
Ethan Wate used to think of Gatlin, the small Southern town he had always called home, as a place where nothing ever changed. Then he met mysterious newcomer Lena Duchannes, who revealed a secret world that had been hidden in plain sight all along. A Gatlin that harbored ancient secrets beneath its moss-covered oaks and cracked sidewalks. A Gatlin where a curse has marked Lena's family of powerful Supernaturals for generations. A Gatlin where impossible, magical, life-altering events happen.
Sometimes life-ending.
Together they can face anything Gatlin throws at them, but after suffering a tragic loss, Lena starts to pull away, keeping secrets that test their relationship. And now that Ethan's eyes have been opened to the darker side of Gatlin, there's no going back. Haunted by strange visions only he can see, Ethan is pulled deeper into his town's tangled history and finds himself caught up in the dangerous network of underground passageways endlessly crisscrossing the South, where nothing is as it seems.
Goodreads Rating:
3.89 stars with almost 78,000 ratings
Genre Listing:
Young Adult, Fantasy, Paranormal, Romance, Magic, Supernatural, Witches
Get the Book: Amazon, Book Depository
Other Kami Garcia/Margaret Stohl Reviews: Dangerous Creatures, Beautiful Redemption, Beautiful Chaos
Review:
Edited 11/24/2016
It's been far too long since I've been able to post a book review! I've been overwhelmed with life stuff and classes, and just haven't gotten a chance to read. It was bugging me that I only had about 200 pages left of Beautiful Darkness, so I made time to finish it. Unfortunately, my reviews are going to continue to be sparse. I'll try to make time for discussions, though.
I read Beautiful Creatures a while back and loved it. I enjoyed Beautiful Darkness, but I think the gap between reading the first and second book and the time off from reading it diminished my love of the Beautiful Creatures series. I believe that it's one of those series that you sort of need to binge read because there's so much information in each book. I found myself forgetting a lot of things from the first book that was probably important to Beautiful Darkness.


I like that Beautiful Darkness was more adventurous than the first book. The first book did an amazing job of explaining the Caster world, but Beautiful Darkness throws the reader into the Caster world. I love how it evolved from being just the Caster world is in the Mortal World to how they Co-exist. I thought that there was a lot of good detail of this world that made it enjoyable.

I enjoyed how Beautiful Darkness wasn't just about Ethan and Lena. We learned a lot more about all of the families, and how they're on this journey with Ethan and Lena. I loved being able to get more information on Ethan's family, and seeing their connection with the other world and how it's shaped Ethan into becoming what he is.

One thing that bothered me was what happened to link. There's really no mention of his fight with John, and so when he turned up with his set of powers it through me off. It was just very nonchalant and could have been better worked into the story. There was almost no emotion to it what so ever. It just seemed like an afterthought.


Overall, I enjoyed the story. I can't wait to read Beautiful Chaos, but since it's my midterm week I don't think I'll have a chance to sit down and read for fun. I get the feeling that Chaos is going to be a lot more about Ridley.