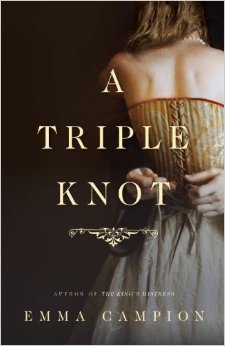 Goodreads Summary:
The critically acclaimed author of The King's Mistress brings another fascinating woman from history to life in an enthralling story of political intrigue, personal tragedy, and illicit love.
Joan of Kent, renowned beauty and cousin to King Edward III, is destined for a politically strategic marriage. As the king begins a long dynastic struggle to claim the crown of France, plunging England into the Hundred Years' War, he negotiates her betrothal to a potential ally and heir of a powerful lordship.
But Joan, haunted by nightmares of her father's execution at the hands of her treacherous royal kin, fears the king's selection and is not resigned to her fate. She secretly pledges herself to one of the king's own knights, one who has become a trusted friend and protector. Now she must defend her vow as the king—furious at Joan's defiance—prepares to marry her off to another man.
In A Triple Knot, Emma Campion brings Joan, the "Fair Maid of Kent" to glorious life, deftly weaving details of King Edward III's extravagant court into a rich and emotionally resonant tale of intrigue, love, and betrayal.
Goodreads Rating: 3.90 with 42 ratings
Genre Listing: Historical Fiction, European Literature, Romance
Edited 11/24/2016
Disclaimer: I received this book in exchange for a review through blogging for books.
So if you've read my latest discussion post on guilty pleasures, you'll know mine is Historical Fiction books. I've been really craving a new Historical Fiction book, and luckily for me, this was waiting for me at my doorstep when I got back from Indiana. I'm a fan of books showing up at my door.
Several years ago I read a book about Queen Isabella, wife of Edward II. I was really fascinated by it, so it was nice to get introduced to her again in a different light, and then get to read about her children entering young adulthood. This isn't her story, though, so I digress.
The story in
A Triple Knot
is one of a big love triangle centered around Joan of Kent. Lady Joan is the companion and cousin to Prince Edward, or "Ned". Joan's story is a bit of a roller coaster. Ned Originally forces her into a betrothal that she's doesn't want. The royal family doesn't care for her much, but she's of royal blood, so she gets a few suitors, but they don't really pan out for one reason or another. She meets a Knight named Thomas who is something like twice her age. This is back in the day when it's perfectly reasonable to wed your daughter off at a young age (like 12). Betrothals are extremely serious ordeals, and basically a legally binding contract. Eventually, to escape the troubles of her life, Thomas proposes to Joan. However, the powers that be force her to marry Will, the son of an Earl. I'd go into more details, but I don't want to tell the whole story.
Despite the actions that Will took against Joan, I actually felt awful for him. He doesn't love her, he's always overshadowed by Ned, and his wife doesn't really hide her feelings about Thomas. In the beginning, of their relationship, it seemed like they, at least, tried to respect each other, but that went out the window. I don't condone what he did to her, but at the same time, I can kind of see how what happened turned him to make those choices.
It was intriguing to not get a happy ending. (Sorry, that's probably a big spoiler). I say this because more often than not, happy endings probably weren't the case in those times. So I thought the way it ended was more realistic. From what I have read about this era, marriage was less about love and more about an end to a means, and I thought the book really kept true to that. Overall it had a lot of twists and really showed the depth of lies and deceit that I'd expect at a royal court in the 1300's.
I thought Joan was a mostly strong character. She had to deal with a lot of stuff over the course of her life and handled it reasonably well. I will say that I was a little disappointed in her choice to keep Ned so involved in her life after all of the cruel and creepy things he did to intervene with her life. Then again, I guess you don't really tell a Prince to get out of your life.
I really enjoyed this book. It was just what I needed to fulfill my craving for historical fiction romance. I thought that Emma Campion did a great job of imagining, and bringing to life what it'd be like in the court of the 1300's. It had strong characters and great imagery. I think that I'll seek out more of her books.
four out of five moons
P.S.- I logged into my Book Depository account today and found I had a handful of people bought books through my links. Thanks to whoever! That was an awesome surprise to log into.