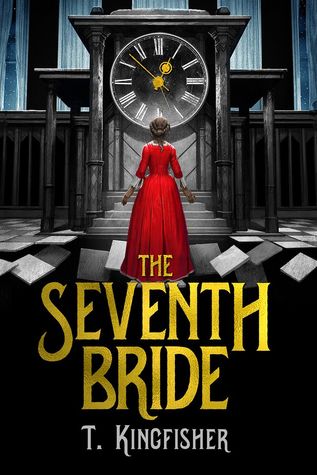 Goodreads Summary:
Young Rhea is a miller's daughter of low birth, so she is understandably surprised when a mysterious nobleman, Lord Crevan, shows up on her doorstep and proposes marriage. Since commoners don't turn down lords—no matter how sinister they may seem—Rhea is forced to agree to the engagement.
Lord Crevan demands that Rhea visit his remote manor before their wedding. Upon arrival, she discovers that not only was her betrothed married six times before, but his previous wives are all imprisoned in his enchanted castle. Determined not to share their same fate, Rhea asserts her desire for freedom. In answer, Lord Crevan gives Rhea a series of magical tasks to complete, with the threat "Come back before dawn, or else I'll marry you."
With time running out and each task more dangerous and bizarre than the last, Rhea must use her resourcefulness, compassion, and bravery to rally the other wives and defeat the sorcerer before he binds her to him forever.
Goodreads Rating:
3.90 stars with just over 1800 ratings
Genre Listing:
Fantasy, Young Adult, Magic, Adventure
Get the Book: Amazon, Book Depository
Review:
Edited 12/1/2016

The Seventh Bride by T. Kingfisher had an interesting plot to it. Rhea is a fifteen-year-old girl, who is shocked to find out that a Lord wants to marry her. In her heart, she knows it's wrong, but as she says many times in the book, peasants just don't turn down Lords. Weeks before the wedding she finds herself being sent out to the Lord's manor where she discovers his creepy little secrets and his abundance of "living" wives. The concept is incredibly disturbing and different.

I enjoyed the story, but I didn't enjoy the characters. Rhea is okay, but I don't feel like the age given matches her character. It says she's fifteen, but if it didn't specify, I would put her age at around 22, and not just because she's being married off. I'm fully aware that centuries ago young girls were married rather young, but her attitude makes her seem older. I didn't feel like she had any redeeming qualities. I didn't hate her, but she was there. I didn't find her particularly clever or witty. She wasn't all that brave. The ideas to get out of her situation weren't even hers. In most of her tasks, she only got out of it because of another character. She was more inclined to sit and cry about it, which was annoying.

The only character who sparked any emotion in me was the Hedgehog. That's ultimately what won me over with the book. Hedgehogs are my favorite animal, so I found it's gestures and presence adorable. For me, the Hedgehog was the real hero of the story. He guided her way to the creepy manor, saved her in the first task, and ultimately led her out of the clock.

Despite my indifference towards the characters, I did find the book had a dark sense of humor, which I appreciated. And again, I did like the concept of the story. I thought it was unique. It is one of those cases where it was enjoyable but didn't leave me completely enthralled with it. It could have been better. I did find some quotes that I enjoyed, and will share them.
Quotes:
"She was still going somewhere terrible, but she had a hedgehog, dammit." - page 43
"Occasionally he'd take it in his head to put trousers on the pig, much to the annoyance of both his mother and the pig."- page 51
"The hedgehog was not inclined to comment on the gardening habits of evil people."- page 55
"Maybe the wheelwright's son had a very good reason for putting trousers on that pig. Maybe if you've spent a week in a fairy mount, it is incredibly obvious that all pigs need trousers."- page 124
"I'm suggesting that if you're going to bring hell down upon someone's head, you might as well dress for the occasion."- page 173