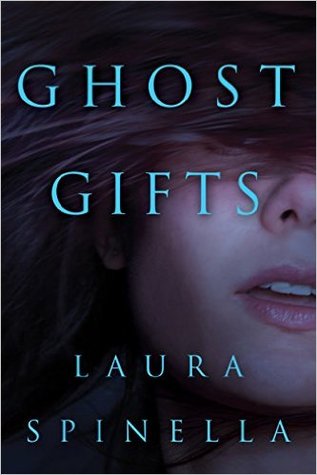 Goodreads Summary:
All Aubrey Ellis wants is a normal life, one that doesn't include desperate pleas from the dead. Her remarkable gift may help others rest in peace, but it also made for an unsettling childhood and destroyed her marriage. Finally content as the real estate writer for a local newspaper, Aubrey keeps her extraordinary ability hidden—until she is unexpectedly assigned the story of a decades-old murder.
Rocked by the discovery of a young woman's skeletal remains, the New England town of Surrey wants answers. Hard-nosed investigative reporter Levi St John is determined to get them. Aubrey has no choice but to get involved, even at the terrifying risk of stirring spirits connected to a dead woman's demise and piquing her new reporting partner's suspicions.
As Aubrey and Levi delve further into the mystery, secrets are revealed and passion ignites. It seems that Aubrey's ghost gifts are poised to deliver everything but a normal life.
Goodreads Rating:
3.99 stars with over 7,200 ratings
Genre Listing:
Mystery, Paranormal, Romance, Suspense
Get the Book:
Amazon
,
Book Depository
Book Challenge:
Pop Sugar
: A Murder Mystery, Book 10/40
Review:
Edited 12/1/2016
Oh. My. God. I can't believe I almost didn't read this book. - That is the honest truth. The title and the plot were way too similar to a book I've read previously and detested (Cough.
A Gift of Ghosts
). I am so glad I read this, though. I haven't read a decent Mystery in a while, and the extra bonus of Ghosts had me hooked from the start.
I had a hard time putting this one down. I was instantly hooked from the moment that Aubrey's gift was described. The thing that I enjoyed the most about her gift was the descriptions of it. Laura Spinella gives you sights, sounds, smells, feelings, messages, and yes- gifts from the ghosts. It made it all feel very complete. It wasn't just "Oh. I see dead people." It was very interactive.
I love the background story to Aubrey- a girl raised by her carnival-owning grandmother, who just wants a normal life. I was worried that the story would be her avoiding her gifts entirely, but that's not the case at all. She very much not only uses them but also uses her career in a way that helps the ghosts.
I love the connection between Aubrey and Levi. I enjoyed the initial awkwardness between them and the fact that there wasn't an initial attraction. I enjoyed getting to see the relationship grow, which made It felt more real. Going to get a little spoilery here, but there is a particular scene. All I'm going to say is YOWZA.
I will say, this book kept me guessing to the very end. I feel like that is a rarity for me to say. I usually have a pretty good grasp of where a book is going. There was so much that completely surprised me about this book, though. It's a great page-turner and left me on an emotional roller coaster. Did I mention it kept me guessing until the very end? Seriously, for the later part of the book I just read it with my jaw wide open.
If you'd like a solid murder mystery with an excellent romance and a touch of paranormal then read this book.