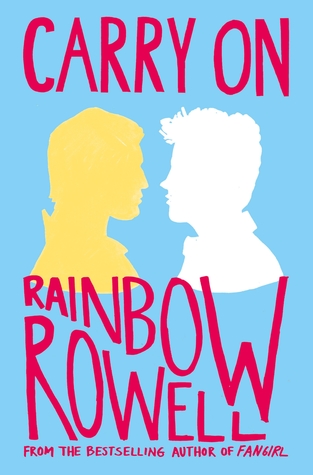 Hey, Hi, Hello readers of the internet! How are you? That's either great or unfortunate.
As formerly mentioned my name is Kayla (really it's Kaula but I pronounce it like a normal name instead) and I will be writing the occasional post for Linz. So before we get started here's a couple random things about me since I didn't write a proper intro post:
I have 3 dogs, they are called Penny Lane, Buddy, and Jelly Beans. I call them PBJ sammich which makes my husband think I'm nuts but I'm okay with that.
I hate dark chocolate- it's just gross and you're not going to convince me otherwise.
My 2 favorite shows on TV right now are Outlander and Game of Thrones.
I really like Salt and Vinegar chips.
Considering that my favorite book currently is Carry On by Rainbow Rowell, I couldn't think of a better time to do a review on it so here it is!
As per Lindsey's normal structure- Here's a description from goodreads:
Simon Snow just wants to relax and savor his last year at the Watford School of Magicks, but no one will let him. His girlfriend broke up with him, his best friend is a pest, and his mentor keeps trying to hide him away in the mountains where maybe he'll be safe. Simon can't even enjoy the fact that his roommate and longtime nemesis is missing because he can't stop worrying about the evil git. Plus there are ghosts. And vampires. And actual evil things trying to shut Simon down. When you're the most powerful magician the world has ever known, you never get to relax and savor anything.

Carry On is a ghost story, a love story, a mystery and a melodrama. It has just as much kissing and talking as you'd expect from a Rainbow Rowell story — but far, far more monsters.
The paperback edition of Carry on is 528 pages, and the audio is 13 hours 38 minutes 0 seconds- both published by Macmillan.
The audiobook is narrated by Euan Morton.
As of 2/26/2016, the Kindle eBook is available for 9.99 & the Audible audiobook is 27.99.
Or you can get 1 free book with a 30 day trial to Audible.com!
Current Goodreads rating is 4.17 stars with 48% of those reviews being 5 stars.
Rainbow Rowell is also the author of Eleanor & Park, Fangirl, Landline, and Attachments.
Genre Listing: Fantasy, GLBT, Romance, Young Adult
Get the book:
Amazon
,
Book Depository

*SCREAMS* Oh my god now that all that is finally out of the way I can tell someone how obsessed I am with this book!
Ok so if you've ever read The Fault in our Stars by John Green then all I need to tell you is I feel about Carry On the same way Hazel feels about An Imperial Affliction.
If you don't know what that means, suffice to say this book is 100% amazing and it makes me both want to make everyone I meet read it and also keep it hidden away and secret.
I came into this book AFTER Fangirl so Carry On is super meta for me but I'm so glad I read it in that order because I just got to see more of Rainbows love story undercurrent between those books.

As my general reading medium is by audiobook- I'd like to first just say that Euan Morton is an AMAZING choice for this book. Not only did I get to listen to a brit speak for nearly 14 hours (a treat in and of itself) but he adjusted his pitch and dialect to match not only the characters personalities but also their socioeconomic standings. His intonation and inflection are exactly matching the text of the book and there were definitely parts that I rewound just to hear him say them again.

As you will probably see elsewhere there is a lot of parallels between Carry on and Harry Potter. Carry On has often been described as Harry/Draco fanfiction but I would lean toward it being a fan fiction of multiple male leads of the YA genre.

There is a love story brewing between the leads all while a war is being fought between the old (but not actual) "royal" families and the new revolutionaries trying to usher in a new regime. There's dragons, magic, vampires and even a villain who you sort of feel bad for. The story is primarily set in The Watford School of Magicks and the Pitch Manor in the U.K.

There is a ton of metaphor in this book and if I wanted to get into authorial intent I could go on for days but I don't have the time or the attention span for that right now.

Simon Snow (aka The Chosen One) is the prophesied mage that will be responsible for saving the realm of magic from "the insidious humdrum" who is draining the world of magic. The book takes place during his last year at Watford- the humdrum sends creatures after him, which Simon battles all while searching for his roommate-turned-arch nemesis Baz.

Tyrannus Basilton Grimm Pitch (aka Baz) is a teenage mage dealing with his secret monstrous identity, his secret attraction to a certain someone, the loss of his mother and being stuck between the person he loves and the expectations of his family.

Penelope Bunce (Penny) is Simon's quick witted, intelligent, lovable yet know-it-all best friend and "sidekick" (or as she calls it, dread companion)

Agatha Wellbelove: Simon's Ex-girlfriend and one of his only friends. Has a crush on Baz, wants to run away from magic, is heavenly gorgeous.

Simon and Baz eventually team up and some juicy bits are uncovered, sad times occur and some happy endings are had.

A few favorite quotes from the book-

1. You were the sun, and I was crashing into you.

2. Magic separates us from the world, let nothing separate us from each other.

3. Aleister Crowley, I'm living a charmed life.


4. Sharing a room with the person you want most is like sharing a room with an open fire.

He's constantly drawing you in. And you're constantly stepping too close. And you know it's not good--that there is no good--that there's absolutely nothing that can ever come of it.

But you do it anyway.
And then...
Well. Then you burn.

5. You have to pretend you get an endgame. You have to carry on like you will; otherwise, you can't carry on at all.

6. "My mum said that nobody really knew where you came from. And that you might be dangerous." "Why didn't you listen to her?" I asked.
"Because nobody knew where you came from, Simon! And you might be dangerous!"

Most of all, as with all her books, I love Rainbows ability to bring a sense of depth to the characters- there's substance beneath her words. Like once you're done reading their story- Simon and Baz aren't gone, they're just off on another adventure and you have to go out there and find what story they've delved into, which masks they're hiding behind..... which love story they're living this time.


And finally rating:
5 out of 5 cherry scones.
(^read the book, then you'll get it)