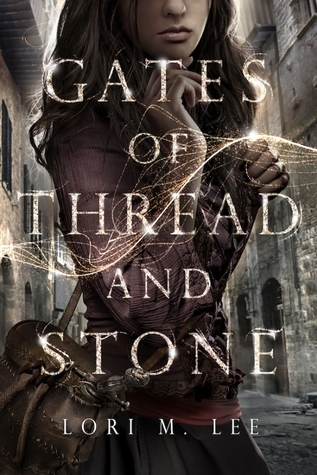 Goodreads Summary
: In the Labyrinth, we had a saying: keep silent, keep still, keep safe.
In a city of walls and secrets, where only one man is supposed to possess magic, seventeen-year-old Kai struggles to keep hidden her own secret—she can manipulate the threads of time. When Kai was eight, she was found by Reev on the riverbank, and her "brother" has taken care of her ever since. Kai doesn't know where her ability comes from—or where she came from. All that matters is that she and Reev stay together, and maybe one day move out of the freight container they call home, away from the metal walls of the Labyrinth. Kai's only friend is Avan, the shopkeeper's son with the scandalous reputation that both frightens and intrigues her.
Then Reev disappears. When keeping silent and safe means losing him forever, Kai vows to do whatever it takes to find him. She will leave the only home she's ever known and risk getting caught up in a revolution centuries in the making. But to save Reev, Kai must unravel the threads of her past and face shocking truths about her brother, her friendship with Avan, and her unique power.
Goodreads Ratings
: 3.69 with over 1600 ratings
Genre Listing:
Fantasy, Young Adult, Science Fiction, Time Travel, Romance, Mythology, Paranormal, Dystopian,
Get the book:
Amazon,
Book Depository
Review:
Edited 12/1/2016
Disclaimer:
I received this book in exchange for a review through NetGalley.
It's been a while since I've read a decent dystopian. The genre is becoming more and more popular, which means sifting through a lot of crap to find the gems. All of the ones I've been reading have been similar to me lately. Gates of Thread and Stone was a refreshing change of pace in the world of Dystopian novels.
Kai is a strong female lead who can kick ass. She's street smart and a bit of a true survivor because of how she has to live in the labyrinth. Kai never once came across as weak to me. Throughout the book, she's consistently determined, stubborn, and does what she has to get by. I liked that a lot in her. There's a love interest, and it's mentioned a few times, but it never steals the storyline. It's always just in the background. I liked this, because as I've said before, nothing bothers me more than unnecessary romance scenes.
I thought that the details of the book were fantastic. I could tell that this world was gritty and dirty, and potentially even hell on earth. I thought that the twist of the Infinite was fascinating and different. It combined some of my favorite things to read about, strong characters, magic, mythology, and post-apocalyptic civilization.
Kind of a spoiler: I did not trust Avan at all during this book. It's not that I disliked him, but he seemed fake and like he had ulterior motives to helping Kai. The entire time I was wondering when his true colors showed. I guess they did in a way, just not the way I had expected.
I don't know how I feel about Reev. The whole story was about him, but he wasn't there. When he was around, there wasn't a whole lot of emotion. He was just there.
One thing that did bug me about this is all of the actions seemed like they were too convenient. Obviously, a lot of that was because of the way the end of the story worked out. But it still would have been nice to see some kinks thrown into plans. (Sorry, that's vague. I'm trying to do this without spoilers). It made a lot of events rather predictable.
Overall, I enjoyed it and will probably be on the look out for the next book.
Four out of Five Moons