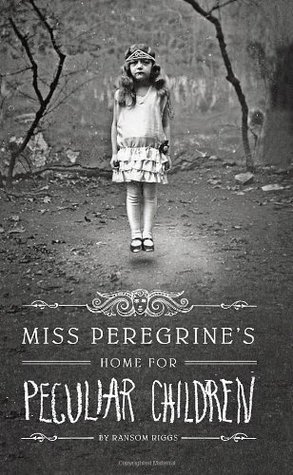 Goodreads Summary:
A mysterious island. An abandoned orphanage. A strange collection of very curious photographs.
It all waits to be discovered in Miss Peregrine's Home for Peculiar Children, an unforgettable novel that mixes fiction and photography in a thrilling reading experience. As our story opens, a horrific family tragedy sets sixteen-year-old Jacob journeying to a remote island off the coast of Wales, where he discovers the crumbling ruins of Miss Peregrine's Home for Peculiar Children. As Jacob explores its abandoned bedrooms and hallways, it becomes clear that the children were more than just peculiar. They may have been dangerous. They may have been quarantined on a deserted island for good reason. And somehow—impossible though it seems—they may still be alive.
A spine-tingling fantasy illustrated with haunting vintage photography, Miss Peregrine's Home for Peculiar Children will delight adults, teens, and anyone who relishes an adventure in the shadows.
Goodreads Rating:
3.78 with over 260,000 ratings.
Genre Listing:
Young adult, Paranormal, mystery, fantasy, fiction, supernatural, adventure, time travel
Get the book:
Amazon
,
Book Depository
My other reviews for Ransom Riggs' books: Hollow City
Review:
Edited 12/1/2016
Hello, readers! Sorry for my hiatus. I've been extremely busy working and haven't had much of a chance to read, let alone write about it. I got a four day weekend for Thanksgiving and was determined to read and finish a book during it. I was reading something I wasn't enjoying very much, but on a whim, I decided to read about Miss Peregrine's peculiar children.
I had heard about this book previously but didn't know much about it. Honestly, I just picked it because the cover creeped me out. I fully admit to judging by covers. I also judge by titles. I will most likely read a book if it has a fascinating cover and title. I'm glad that I picked this one up.
I found myself sucked into this book; one could say it created its loop. I'd come up from my little cocoon and wonder where I was, what day it was, and why I had to do regular things. I was instantly pulled in from the first page and begrudgingly put it down to attend to real life.
I feel that the story was unique and creepy. It has the right amount of mystery, romance, and action. There wasn't anything that felt forced, and I got enough information about all of the characters to care about them, but not so much that I was finding things about them that annoyed me.
This is one of those books that I feel like I need to own a hard copy of. The pictures on kindle were good and added a lot to the story. I could picture it in my mind and then had the picture to reference, which is nice. I just think having an actual copy of the book would add to the creepy factor of the photos. I don't believe that this book would work well on one of the original Kindles or the paper white (no clue on other readers) because of the pictures. I could be wrong; that's just my opinion.
The only thing that I wasn't super thrilled about in this book was the relationship between Emma and Jacob. It weirded me out considering her relationship with his grandfather. I guess it was necessary for the story, but I find myself cringing a lot in those parts.
I think this would be fascinating to see a movie (assuming Hollywood wouldn't jack it up like so many other books to film.) It could be incredibly entertaining and creepy if done right. I liked the story, and I'm going to start on the second book as soon as I get done writing this. For me, this book had a little bit of everything. I've already mentioned the action, mystery, and romance- but it also has history, creepiness, different paranormal entities (I don't know about you, but I'm tired of vamps and weres), and sort of a carnival freak show feel to it. I highly recommend it!
Four out of five moons!