This is going to be a very short book haul, but I want to start doing these more frequently when I get books. I'm hoping they'll give me some kind of goal to work towards and keep me accountable. There's going to be a longer Book Haul coming up in a few weeks. The annual Half Priced Books sale is coming up! You can bet I'll be there to find more books to hoard!
Real quick, I'd like to tell you where I got two of these books. I recently was introduced to a site called Reader's Legacy. It's a reading social media page where you earn a currency called Litcoins. You do this by being social with other readers. You can then use the Litcoins to purchase books (you pay for shipping.) Anyways, after signing up and doing some socializing I was able to earn enough coins to purchase some books. I got the books insanely fast (within a few days), and all I had to pay was shipping. The books sent were new paperbacks, and they're lovely.
If you'd like to sign up for Readers Legacy, here is my
Referral Link
.
Book Haul:
Goodreads Summary: Shadow is a man with a past. But now he wants nothing more than to live a quiet life with his wife and stay out of trouble. Until he learns that she's been killed in a terrible accident.
Flying home for the funeral, as a violent storm rocks the plane, a strange man in the seat next to him introduces himself. The man calls himself Mr. Wednesday, and he knows more about Shadow than is possible.

He warns Shadow that a far bigger storm is coming. And from that moment on, nothing will ever be the same…
Goodreads Rating: 4.10 with over 400,000 ratings
Genre Listing: Fiction, Urban Fantasy, Mythology, Science Fiction, Contemporary, Horror, Adult, Supernatural
Initial Thoughts: I've been wanting to read this for a while, but for some reason I never think to pick it up when I'm in a bookstore. I'm so excited to finally have this. I've been meaning to get more Neil Gaiman in my life. It sounds so mysterious, and I have a feeling I'm going to be hooked. This is one of the books that I was able to get from Readers Legacy with my litcoins.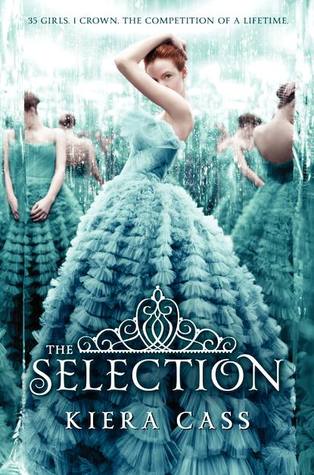 Goodreads Summary: For thirty-five girls, the Selection is the chance of a lifetime. The opportunity to escape the life laid out for them since birth. To be swept up in a world of glittering gowns and priceless jewels. To live in a palace and compete for the heart of gorgeous Prince Maxon.
But for America Singer, being Selected is a nightmare. It means turning her back on her secret love with Aspen, who is a caste below her. Leaving her home to enter a fierce competition for a crown she doesn't want. Living in a palace that is constantly threatened by violent rebel attacks.

Then America meets Prince Maxon. Gradually, she starts to question all the plans she's made for herself—and realizes that the life she's always dreamed of may not compare to a future she never imagined.
Good reads Rating: 4.16 with over 318,000 ratings
Genre Listing: Young Adult, Dystopia, Romance, Fantasy, Fiction, Science Fiction
Initial Thoughts: I'm really surprised that I'm interested in reading this one. I know it's going to be a cheesy sappy romance, something that I constantly complain about, and yet I got it off of Readers Legacy with my Litcoins. Don't get me wrong, I'm excited to read it. I'm just surprised that I want to read it. My friend Sarah described it as "If Hunger Games mimicked the Bachelor instead of Survivor." This alone has me pretty interested, so we shall see how it goes.


Goodreads Summary:
It's 1814 and the streets of London's Covent Garden are at the centre of a dark trade, enticing rich and poor alike with a cocktail of gin and beer and sex. Behind their own fashionable private doors in the surrounding parishes a group of aristocratic young men are found murdered, all of them wearing the mask of a satyr, all of them behind locked doors with no signs of entry.

Constable Charles Horton's investigation into these violent crimes begins, quite by chance, at Thorpe Lee House in Surrey, where accusations of witchcraft have swept the village. What connects these broken London men, savage with the pursuit of pleasure, and a country village awash with folklore and talk of burning witches?

The answers lie, yet again, under lock and key, in a madhouse for the deranged, where Horton's wife Abigail seeks refuge from her disordered mind. In this world of witchcraft and madhouses, whores and aristocrats, it's a savage magic indeed that holds its victims in its thrall.
Lloyd Shepherd's most ambitious novel to date is a triumph of the imagination. His rich cast of characters weaves a hugely satisfying story of depth, insight and exquisite drama.
Goodreads Rating:
3.77 stars with just over 100 ratings
Genre listing:
Historical Fiction, Mystery, Fantasy, Detective
Get the Book:
Amazon
,
Book Depository
Initial Thoughts:
I bought this at HPB while killing time before a play yesterday. I'll be completely honest, I bought this because it's shiny and looks twisted. I read such a weird and wide variety of things that being shiny and looking twisted is about all it takes to peak my interest. We shall see if this pays off for me once I read it. It sounds interesting!