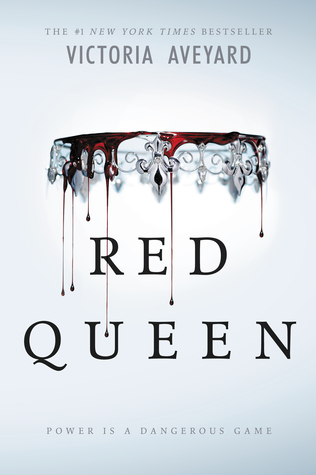 Goodreads Summary:
This is a world divided by blood – red or silver.
The Reds are commoners, ruled by a Silver elite in possession of god-like superpowers. And to Mare Barrow, a seventeen-year-old Red girl from the poverty-stricken Stilts, it seems like nothing will ever change.
That is, until she finds herself working in the Silver Palace. Here, surrounded by the people she hates the most, Mare discovers that, despite her red blood, she possesses a deadly power of her own. One that threatens to destroy the balance of power.
Fearful of Mare's potential, the Silvers hide her in plain view, declaring her a long-lost Silver princess, now engaged to a Silver prince. Despite knowing that one misstep would mean her death, Mare works silently to help the Red Guard, a militant resistance group, and bring down the Silver regime.
But this is a world of betrayal and lies, and Mare has entered a dangerous dance – Reds against Silvers, prince against prince, and Mare against her own heart.
Goodreads Rating:
4.11 stars with over 135,000 ratings.
Genre Listing:
Young Adult, Fantasy, Fiction, Magic
Get the Book: Amazon, Book Depository
Book Challenge list:
Modern Mrs Darcy's Book Challenge
: A Book you Own but have never read, 2/ 12
Review:
Edited: 12/1/2016

It always feels like such an accomplishment for me when I finish a book. I sometimes feel like I should get a trophy at the end of the book. I'm awarding myself this random button I found on Google.
For the most part, I enjoyed Red Queen. It took me a bit to get into, but once I did, I found it hard to put down. My biggest issue with it is that I found it to be cheesy, and I found Mare to be too trusting. I was expecting someone in her situation to be a lot less trusting. I feel like the more the story went on, the cheesier it got. It wasn't unbearable, but it did get a little annoying.

I feel like this review is going to get a little spoilery, and for that I'm sorry. Sometimes it's unavoidable to get my thoughts out. I didn't see the whole thing with Maven coming, but at the same time, I'm not even remotely surprised about it. He was probably my least favorite character, and seemed super fake, which I guess had its purpose. I wasn't surprised with what happened with Shade either. It was a decent story, but I just didn't feel like there were any surprises in the book.

During the final battle, I wanted Mare to overpower Arven's weird control. She's supposed to be stronger than all of the Silver's, so I feel like she should have just been able to break free of Arven. I don't know if at any time did I feel like she was more powerful.

I was pretty interested in the little side story involving Cal's Mother. I want to know what happened there. I hope there's a little prequel or something. I also wouldn't mind reading more about Elara. It'd be neat to see things from the Evil Queen perspective. It seemed like it would be kind of interesting. I also enjoyed how each noble house had their specific color. It wasn't super important, but I thought it was a nice touch of details.

I am interested to see where this series goes. I'll probably Try to acquire it here soonish, even though I have a ton of other books I need to get through. Ah, the life of a bookworm. Unfortunately, I don't have a lot to say about this book. It was good; I enjoyed it. There were parts I disliked, but I'm blank on thoughts right now.