Haul:
There is a store that is very dangerous, and it sucks up all of your money. It's called Half Priced Books, and I love it. I went there today with my friend Leslie and got a lot of books I've been really looking forward to. Total I got 7 books for $31. Not too bad if I do say so myself. Without further ado, here is today's book haul.
Goodreads Summary:
With her knack for being in trouble's way, Sookie witnesses the firebombing of Merlotte's, the bar where she works. Since Sam Merlotte is now known to be two-natured, suspicion falls immediately on the anti-shifters in the area. Sookie suspects otherwise, but her attention is divided when she realizes that her lover Eric Northman and his "child" Pam are plotting to kill the vampire who is now their master. Gradually, Sookie is drawn into the plot-which is much more complicated than she knows.
Goodreads Rating:
3.74 with over 92,000 ratings
Genre Listing:
Paranormal, Vampires, Fantasy, Fiction, Romance, Mystery, Supernatural
Get the Book: Amazon, Book Depository
Initial thoughts:
This book is probably the least favorite of the ones that I bought today. I'm excited about it, but it's going to be a very long time until I can read it. It's bee so long since I've read the Sookie Stackhouse books that I don't even know which one I left off on. I have a bunch of them in storage, so when I get those back I'm going to reread the series. I don't even think I have the one that's before this, but it was a dollar so I couldn't resist.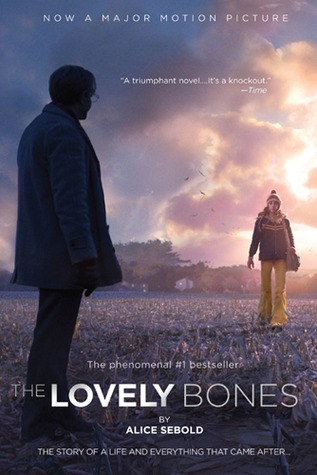 Goodreads Summary:
"My name was Salmon, like the fish; first name, Susie. I was fourteen when I was murdered on December 6, 1973."
So begins the story of Susie Salmon, who is adjusting to her new home in heaven, a place that is not at all what she expected, even as she is watching life on earth continue without her -- her friends trading rumors about her disappearance, her killer trying to cover his tracks, her grief-stricken family unraveling. Out of unspeakable tragedy and loss, THE LOVELY BONES succeeds, miraculously, in building a tale filled with hope, humor, suspense, even joy.
Goodreads rating:
3.73 with over 1.3 million ratings
Genre Listing:
Fiction, Mystery, Young Adult, Contemporary, Fantasy, Crime, Drama, Novels
Get the Book: Amazon , Book Depository
Initial Thoughts:
I've been wanting to read this for a while, but for whatever reason have never picked it up. I try to not buy books (or anything for that matter) at full price, so I'd always just look at it and put it back down. I decided to go for it since it's only $1.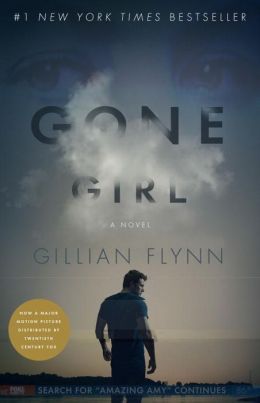 Goodreads Summary:
On a warm summer morning in North Carthage, Missouri, it is Nick and Amy Dunne's fifth wedding anniversary. Presents are being wrapped and reservations are being made when Nick's clever and beautiful wife disappears from their rented McMansion on the Mississippi River. Husband-of-the-Year Nick isn't doing himself any favors with cringe-worthy daydreams about the slope and shape of his wife's head, but passages from Amy's diary reveal the alpha-girl perfectionist could have put anyone dangerously on edge. Under mounting pressure from the police and the media--as well as Amy's fiercely doting parents--the town golden boy parades an endless series of lies, deceits, and inappropriate behavior. Nick is oddly evasive, and he's definitely bitter--but is he really a killer?
As the cops close in, every couple in town is soon wondering how well they know the one that they love. With his twin sister, Margo, at his side, Nick stands by his innocence. Trouble is, if Nick didn't do it, where is that beautiful wife? And what was in that silvery gift box hidden in the back of her bedroom closet?
Goodreads Rating:
3.97 with over 990,000 ratings.
Genre Listing:
Fiction, Mystery, Thriller, Crime, Suspense, Contemporary
Get the book: Amazon , Book Depository
Initial thoughts:
This is another one that I've been wanting to read, but haven't because I haven't felt like dropping the money on it. HPB had it on clearance for like $5-ish dollars. I was pretty excited by this, but I've heard a lot of spoilers so my excitement has kind of dwindled. I still want to read it though, hopefully the spoilers don't ruin it for me.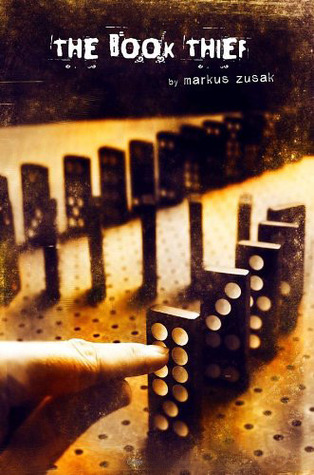 Goodreads Summary:
It's just a small story really, about among other things: a girl, some words, an accordionist, some fanatical Germans, a Jewish fist-fighter, and quite a lot of thievery. . . .
Set during World War II in Germany, Markus Zusak's groundbreaking new novel is the story of Liesel Meminger, a foster girl living outside of Munich. Liesel scratches out a meager existence for herself by stealing when she encounters something she can't resist–books. With the help of her accordion-playing foster father, she learns to read and shares her stolen books with her neighbors during bombing raids as well as with the Jewish man hidden in her basement before he is marched to Dachau.
This is an unforgettable story about the ability of books to feed the soul.
Goodreads rating:
4.35 with over 823,000 ratings
Genre listing:
Historical Fiction, Young Adult, War, World War II, Classics, Book Club
Get the book: Amazon , Book Depository
Initial thoughts:
This book already has me at being a historical fiction and the line "This is an unforgettable story about the ability of books to feed the soul." I could know nothing else but this book, and would probably read it based off that one sentence. This is probably the book I'm second most excited about to read.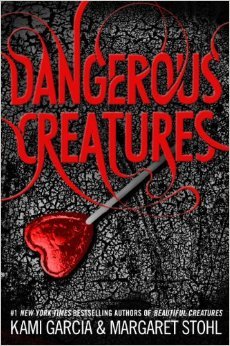 Goodreads Summary:
A new series returns to the world of Beautiful Creatures. Some loves are cursed...others are dangerous.
Ridley Duchannes will be the first to tell you that she's a bad girl. She's Dark. She's a Siren. You can never trust her, or even yourself when she's around. Lucky for her, Wesley "Link" Lincoln can never seem to remember that; quarter Incubus or not, his heart is Mortal when it comes to Ridley. When Link heads to New York City to start a music career, Ridley goes along for the ride-and she has her own reasons. As if leaving small-town Gatlin for the big city, trying to form a band, and surviving life with a partially reformed Siren isn't hard enough already, Link soon learns he has a price on his head that no Caster or Mortal can ever pay.
Kami Garcia and Margaret Stohl, the #1 New York Times bestselling coauthors of Beautiful Creatures, are back and casting another magical spell. Their signature mixture of mystery, suspense, and romance, along with a dash of fun and danger, will pull fans in and leave them begging for more.
Goodreads rating:
3.83 with over 8,000 ratings
Genre listing:
Young Adult, Fantasy, Paranormal, Romance, Magic, Supernatural, Witches, Fiction
Get the book: Amazon , Book Depository

Edit: Find the review here: Dangerous Creatures
Initial thoughts:
This is probably the book I am most excited for. Beautiful creatures is one of my favorite series, and Ridley was one of my favorite characters. I really wanted more of her story, and now I can get it with Dangerous Creatures. So excited!!!
Goodreads summary:
Is death the end . . . or only the beginning?
Ethan Wate has spent most of his life longing to escape the stiflingly small Southern town of Gatlin. He never thought he would meet the girl of his dreams, Lena Duchannes, who unveiled a secretive, powerful, and cursed side of Gatlin, hidden in plain sight. And he never could have expected that he would be forced to leave behind everyone and everything he cares about. So when Ethan awakes after the chilling events of the Eighteenth Moon, he has only one goal: to find a way to return to Lena and the ones he loves.
Back in Gatlin, Lena is making her own bargains for Ethan's return, vowing to do whatever it takes -- even if that means trusting old enemies or risking the lives of the family and friends Ethan left to protect.
Worlds apart, Ethan and Lena must once again work together to rewrite their fate, in this stunning finale to the Beautiful Creatures series.
Goodreads rating:
3.96 with over 43,000 ratings
Genre listing:
Young Adult, Fantasy, paranormal, Romance, Magic, Supernatural, Fiction, Witches
Get the book: Amazon , Book Depository

Edit: Find the review here: Beautiful Redemption
Initial thoughts:
I'm a big fan of this series. I think it's so imaginative and creative. I'm very excited to see where the latest installment takes Ethan, Lena, and their friends. Side note, I find all of the covers for this series so lovely. This will probably be the first book I read in this haul. By far one of my favorite series.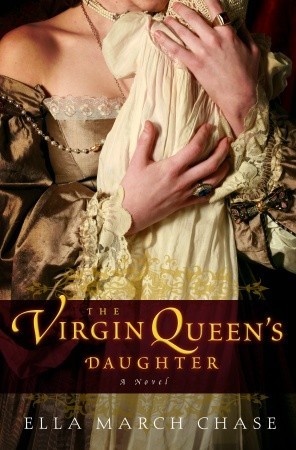 Goodreads Summary:
As captivating now as it was more than four centuries ago, the reign of Elizabeth I—with its scandal, intrigue, and resilience—has sparked the imaginations of generations. In her sweeping historical debut, Ella March Chase explores a thrilling possibility: that the Tudor bloodline did not end with the Virgin Queen.
Tucked away in the country estate of her beloved father, Lord Calverley, young Nell de Lacey feeds her hungry mind with philosophy, language, and studies of science. Her mother, once a devoted lady-in-waiting to Henry VIII's last wife, Katherine Parr, would rather her daughter stop dabbling in the grand affairs of men and instead prepare for her eventual duties as a wife. She knows all too well what menace lurks in royal courts.
But Nell's heart yearns for something more, and a chance meeting with Princess Elizabeth, then a prisoner of the Tower of London, pushes her closer toward finding it. Now, years later, Nell's chance arrives when she is summoned to serve as a lady-in-waiting to the newly crowned Queen Elizabeth. Nell is entranced by the splendor and pageantry of royal life, unaware of the danger and deception that swirls around the monarch and her courtiers.
But a lingering rumor about nine unaccounted for months in the Virgin Queen's past reignites when the flame-haired Nell—a mirror image of Her Majesty both physically and intellectually—arrives at court. Quickly she catches the eye not only of the cunning Elizabeth, but of those who would see the queen fail. With strong evidence to connect Elizabeth to her newest maid of honor and the politics of England in turmoil, the truth could send Nell and those she loves to the Tower to join in the wretched fates of those who've gone before her.
Engrossing and enlightening, The Virgin Queen's Daughter brings to life one of the greatest mysteries of one of the greatest monarchs. Ella March Chase's vivid storytelling gives due credence to a daughter who might have been and a mother who never was.
Goodreads rating:
4.01 with over 6,000 ratings
Genre listing:
Historical Fiction, British Literature, Adult, Romance,
Get the Book: Amazon , Book Depository

Initial thoughts: The idea of Queen Elizabeth I having a secret daughter intrigues me. I love stories of Royal Courts. They're so twisted and dramatic. I'm sure this will be a very entertaining read. Can't wait to dive into it.

Overall, I'm really thrilled with the books I purchased today. HPB is suppose to have a really big sale in June, and I'm going to try to make it. So, hopefully I'll have another book haul to do soon. Happy reading!