Discussion:
Happy March, everyone! I thought I'd start the month off with a discussion. For whatever reason, I had my to-be-read list in my head and wanted to talk about it. I technically have two lists. One on Goodreads and then a spreadsheet I started. I don't know why I started the spreadsheet, as I don't even use it.
So I guess that leads me to the questions:

What's on your T-B-R list?
How many books are on it?
Do you use your T-B-R- list as a guide of what to read?
I currently have 385 books on my Goodreads T-B-R. I have no idea how many is on my spreadsheet. I don't even know why I have a T-B-R. I never use it. I rarely go to it to decide what to read. Mostly what happens with mine is that I'll get bored, go to Goodreads, and search their recommendations. I'll then add things from that and immediately forget about them. A lot of them are free e-books, and I'll download them. They'll go into an unread collection on my Kindle and sit there. Eventually, I'll go through it and pick something at random with a pretty color. Most of the time I just find something for free on Kindle Unlimited or grab a paperback/ hardcover I have handy. Maybe I'll start using it more often.
Some of the things on my T-B-R are:
1.)
Alice in Zombieland by Gena Showalter
2.)
Ruby Red by Kerstin Gier
3.)
A Great and Terrible Beauty by Libba Bray
4.)
The School for Good and Evil by Soman Chainani
5.)
Magyk by Angie Sage
Update!

Wow, I am not great at following my To be Read List. I posted this on March 2, 2015, and as of writing this, it is December 1, 2016. I've read exactly one book on this list, which was The School for Good and Evil by Soman Chainani. You can see my review for it here.

Since it's been nearly two years since I originally wrote this post, I'm going to update my To Be Read list. A lot of the books on my shelf and Kindle have changed. I don't think it will include the above, so here it goes.



1.) The Selection by Kiera Cass






















2.) Shatter Me by Tahereh Mafi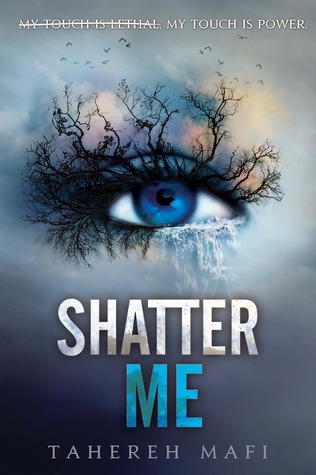 3.) Dragonfly in Amber by Diana Gabaldon
4.) The Tiem Traveler's Wife by Audrey Niffenegger
5.) Library of Souls by Ransom Riggs

I'm just going to put five of these up for right now. My to be read list is a lot longer than this, but I feel like this is a good start. I have 3 of 5 of these books, so I don't really have any excuses to not read them.

What's on your to be read list?