Hello, readers! I have another book haul. There are only three books in this one, so it won't take too long. However, it does need some explaining. So this book haul is not books that I bought for myself. A friend of mine posted on facebook about a book exchange. How it works is basically like a chain of events. She posted it, and I sent a book to the person that invited her to the book exchange. I then posted it and my friends sent her books. Their friends then, in turn, sent me books. I wasn't actually expecting books, but it was an amazing surprise when I got them in the mail! So here we go! Oh, and if I get more books in the mail, I'll update this accordingly.
Book #1: When Breath Becomes Air by Paul Kalanithi
Goodreads Summary:
THE NEW YORK TIMES NUMBER ONE BESTSELLER
'Finishing this book and then forgetting about it is simply not an option...Unmissable' New York Times
At the age of thirty-six, on the verge of completing a decade's training as a neurosurgeon, Paul Kalanithi was diagnosed with inoperable lung cancer. One day he was a doctor treating the dying, the next he was a patient struggling to live.
When Breath Becomes Air chronicles Kalanithi's transformation from a medical student asking what makes a virtuous and meaningful life into a neurosurgeon working in the core of human identity – the brain – and finally into a patient and a new father.
What makes life worth living in the face of death? What do you do when life is catastrophically interrupted? What does it mean to have a child as your own life fades away?
Paul Kalanithi died while working on this profoundly moving book, yet his words live on as a guide to us all. When Breath Becomes Air is a life-affirming reflection on facing our mortality and on the relationship between doctor and patient, from a gifted writer who became both.
Goodreads Rating:
4.37 stars with over 22,000 ratings
Genre Listing:
Nonfiction, Autobiography, Memoir, Health, Medical, Death, Science
Get the book:
Amazon
,
Book Depository
Initial Thoughts:
I have a feeling that I'm going to cry during this one. The sender gifted me a hardback cover version, and it seems so fragile and lovely. They also included a personal note on it, which tells me this book means a lot to them. I'm very touched by that and have a feeling I'm going to be touched by this book. It's definitely not something that I would have chosen for myself, which honestly makes me more intrigued by it.
Edit: Review of When Breath Becomes Air
Book #2 The Art of Fielding by Chad Harbach

Goodreads Summary: At Westish College, a small school on the shore of Lake Michigan, baseball star Henry Skrimshander seems destined for big league stardom. But when a routine throw goes disastrously off course, the fates of five people are upended.
Henry's fight against self-doubt threatens to ruin his future. College president Guert Affenlight, a longtime bachelor, has fallen unexpectedly and helplessly in love. Owen Dunne, Henry's gay roommate and teammate, becomes caught up in a dangerous affair. Mike Schwartz, the Harpooners' team captain and Henry's best friend, realizes he has guided Henry's career at the expense of his own. And Pella Affenlight, Guert's daughter, returns to Westish after escaping an ill-fated marriage, determined to start a new life.

As the season counts down to its climactic final game, these five are forced to confront their deepest hopes, anxieties, and secrets. In the process they forge new bonds, and help one another find their true paths. Written with boundless intelligence and filled with the tenderness of youth, The Art of Fielding is an expansive, warmhearted novel about ambition and its limits, about family and friendship and love, and about commitment—to oneself and to others.
Goodreads Rating: 3.99 stars with over 79,000 ratings
Genre Listing: Fiction, Sports, Games, Baseball, Contemporary, Literary Fiction,
Initial thoughts:
Ooh Baseball! I like Baseball. For as much as I like sports, there is a serious lack of sports books in my life. I'm looking forward to reading this one and broadening my horizons. I have high expectations for this book, largely due to the final statement in the summary. Play Ball!
Book #3 Love in the Time of Cholera by Gabriel Garcia Marquez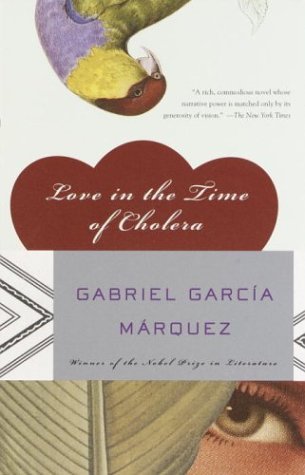 Goodreads Summary: "A rich, commodious novel whose narrative power is matched only by its generosity of vision."--The New York Times
In their youth, Florentino Ariza and Fermina Daza fall passionately in love. When Fermina eventually chooses to marry a wealthy, well-born doctor, Florentino is devastated, but he is a romantic. As he rises in his business career he whiles away the years in 622 affairs--yet he reserves his heart for Fermina. Her husband dies at last, and Florentino purposefully attends the funeral. Fifty years, nine months, and four days after he first declared his love for Fermina, he will do so again.

"A shining and heartbreaking book."--Thomas Pynchon, The New York Times Book Review

"The agelessness of the human story as told by one of this century's most evocative writers."--Anne Tyler, Chicago Sun-Times Book Week
Goodreads Rating: 3.88 with over 290,000 ratings
Genre Listing: Novels, Fiction, Spanish Literature, Historical, Book Club, Romance, Adult, Oprah's Book Club
Initial Thoughts:
Cholera? Well, that sounds messy. The summary reminds me a bit of the movie The Painted Veil with Edward Norton and Naomi Watts. In it, Edward plays a doctor who is research Cholera, and I'm getting off topic. Anyways, it's a good movie and I recommend it if you're into period pieces. Back to this book. It sounds heartbreaking. I'm intrigued by it, and the amount of ratings it has is pretty staggering.
Book exchange thoughts: I'm really excited about the book exchange. I'm really touched that random strangers sent me books. Getting these in the mail was not only awesome but also uplifting. So thanks, senders! I really hope that anyone who participates received many books in return!
---Edit---
Got another book in after I made this post!
Book #4 The Prince of Tides by Pat Conroy
Goodreads Summary:
PAT CONROY has created a huge, brash thunderstorm of a novel, stinging with honesty and resounding with drama. Spanning forty years, this is the story of turbulent Tom Wingo, his gifted and troubled twin sister Savannah, and their struggle to triumph over the dark and tragic legacy of the extraordinary family into which they were born.
Filled with the vanishing beauty of the South Carolina low country as well as the dusty glitter of New York City, The Prince of Tides is PAT CONROY at his very best.
Goodreads Rating:
4.21 stars with over 148,000 ratings
Genre Listing:
Fiction, Southern, Contemporary, Romance, Drama,
Get the Book:
Amazon
,
Book Depository
Initial thoughts:
The cover on this is lovely, and the gifter sent me a lovely note with it, which makes me think they deeply care about this book. It's a huge novel that spans over 40 years, and is Southern. My mind instantly goes to Gone With the Wind and Roses. Pretty excited to read this one, and I hope I love it as much as the sender does.
--Edit #2--
Another Book came in, which was totally unexpected.
Book #5
Goodreads Summary:
Maya Angelou, one of the best-loved authors of our time, shares the wisdom of a remarkable life in this best-selling spiritual classic. This is Maya Angelou talking from the heart, down to earth and real, but also inspiring. This is a book to treasured, a book about being in all ways a woman, about living well, about the power of the word, and about the power do spirituality to move and shape your life. Passionate, lively, and lyrical, Maya Angelou's latest unforgettable work offers a gem of truth on every page.
Goodreads Rating:
4.25 stars with over 6,000 reviews
Genre Listing
: Nonfiction, Autobiography, Poetry, Essays, Inspirational, Cultural, Feminism

Get the book:
Amazon
,
Book Depository
Initial thoughts:
I'm really touched that someone sent me this book. I feel like every book I've been sent is a little piece of some random stranger that they chose to share with me. I've only read snippets of Maya Angelou's work, so I'm truly excited to read this. I expect it will be nothing short of inspiring.