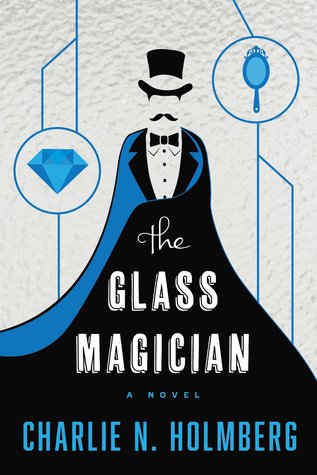 Goodreads Summary:
Three months after returning Magician Emery Thane's heart to his body, Ceony Twill is well on her way to becoming a Folder. Unfortunately, not all of Ceony's thoughts have been focused on paper magic. Though she was promised romance by a fortuity box, Ceony still hasn't broken the teacher-student barrier with Emery, despite their growing closeness.
When a magician with a penchant for revenge believes that Ceony possesses a secret, he vows to discover it…even if it tears apart the very fabric of their magical world. After a series of attacks target Ceony and catch those she holds most dear in the crossfire, Ceony knows she must find the true limits of her powers…and keep her knowledge from falling into wayward hands.
The delightful sequel to Charlie N. Holmberg's The Paper Magician, The Glass Magician will charm readers young and old alike
Goodreads Rating:
3.85 stars with just over 9,000 ratings
Genre Listing:
Fantasy, Young Adult, Fiction, Magic, Romance, Steampunk, Paranormal
Get the Book:
Amazon
,
Book Depository
My other reviews for Charlie N. Holmberg's books The Paper Magician, The Master Magician
Review:
Edited: 12/1/2016
I haven't read this much in a long time. I wish I could say this level of reading is going to be a returning pattern for me, but it was only because I stayed home from work sick today and can't stand to be bored.
I'm a little surprised at myself for picking this book up. I had read Paper Magician, and while I enjoyed most of it I didn't end up caring for the ending. The trip through the heart was too weird for me, and I think I might have made comments about not picking up any other book in the series. I recently found myself thinking of the book a lot lately and decided to give the Glass Magician a chance.
I'm glad that I gave this series a second chance. The magic in this book is really (excuse the pun) enchanting and whimsical. I could follow the plot a lot better in this story because it didn't involve any weird trips through someone's heart. The plot seemed logical, and I like the dynamic that has grown between Ceony and Emery.
I don't know if anyone else feels this way, but I think I could just read about the spells performed and be happy. That's my favorite part of this series. I find them incredibly imaginative. I liked that Holmberg gave us a little sneak peek into Emery's mind. I don't remember if that happened in Paper Magician or not, but it was a nice addition to this part of the story.
I think that now that I'm over my issues with Paper Magician I'll probably continue reading this story. I'm glad that I gave it a second chance. Glass Magician is a nice light and quick read with a lot of imagination.