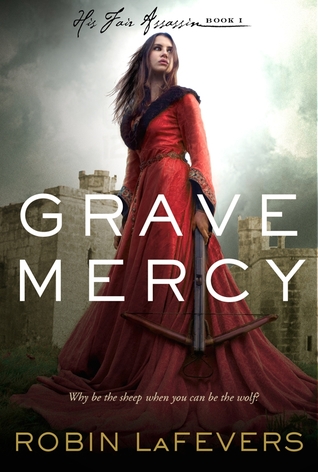 Goodreads Summary:
Seventeen-year-old Ismae escapes from the brutality of an arranged marriage into the sanctuary of the convent of St. Mortain, where the sisters still serve the gods of old. Here she learns that the god of Death Himself has blessed her with dangerous gifts—and a violent destiny. If she chooses to stay at the convent, she will be trained as an assassin and serve as a handmaiden to Death. To claim her new life, she must destroy the lives of others.
Ismae's most important assignment takes her straight into the high court of Brittany—where she finds herself woefully under prepared—not only for the deadly games of intrigue and treason but for the impossible choices she must make. For how can she deliver Death's vengeance upon a target who, against her will, has stolen her heart?
Goodreads Rating: 3.95 stars with over 48,000 ratings
Genre Listing: Fantasy, Historical Fiction, Young Adult, Romance, Paranormal, Adventure, Magic, Death, Mythology, Religion, Assassins
Edited: 12/1/2016

I would like to introduce you to my new favorite book. What? Favorite book? Those are strong words. It's true, though. I am declaring this my favorite book. Please know that is not a light declaration. I've declared one other book my favorite in my lifetime. I've said things as favorites or becoming a favorite, but this is entirely different. Grave Mercy is MY favorite. This book has everything I want in it. It has romance, deceit, drama, historical setting, potions, death, war, action, mythology, oh and assassin nuns as a special bonus.

I was hooked on this book from the very first page. It drew me in and took me in as it's hostage. Ismae is a strong lead character. She's not flighty; she doesn't depend on anyone, and she's brave. She has a rough past, and it makes her have a lot of walls up. As the story progresses, those walls crumble, and we see how fiercely loyal she is. Oh and you know, she's an assassin.

I found Duval to be an interesting character. It's nice to see the male interest have flaws. They aren't outright flaws, but he seems realistic. There wasn't an overwhelming amount of swooning over him. He's mysterious, Ismae highly distrusts him at first, his loyalty is questioned. He goes through situations with and without Ismae. It's not just a teenage swooning crush put in as a placeholder, like so many books do lately.

I thought that the Duchess was wise beyond her years. She seemed like she could be an interesting character all her own.

There was so much detail in this book that my head is swimming. Everything is described so well that I could just picture it. I'm a sucker for more information, and this book has won me over. There are so much mystery and deceit in this story that it had me on edge. A lot of the plot ended up surprising me, which I found enjoyable. I was so consumed by this book. I found myself scrunched up and biting my nails during the suspenseful moments, laughing out loud at the humorous moments, gasping at things.

Something that made me fall in love with this book is towards the end where the reason for the title just kind of clicks. I love these moments. When it clicked for me in this book I let out an audible "Oh my god!"

The only "issues" I had with the book aren't even issues. From the moment Duval enters the story, it's obvious he's going to be the romantic interest. This never falters or even alludes that it's not going to be him. I would usually like more of a mystery with that, but by the end of the book, it just didn't bother me. It HAD to be him. It just wouldn't have worked if it wasn't. Also, I would have loved to hear more about the training at the convent. I feel that Ismae's three years there would make a fabulous prequel.

As soon as I finished this, I instantly got Dark Triumph (Hell yeah Kindle Unlimited!). I'd be reading it now, if it wasn't 5:16 am and my Kindle didn't need charging. I can not wait to start it. As you might have guessed, this is getting five moons from me. I'd give it more if I had anything higher than five to give.