Get your tissues ready,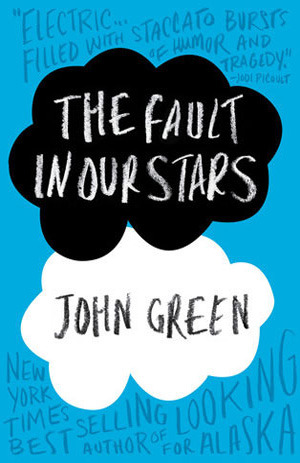 Goodreads Summary:
Despite the tumor-shrinking medical miracle that has bought her a few years, Hazel has never been anything but terminal, her final chapter inscribed upon diagnosis. But when a gorgeous plot twist named Augustus Waters suddenly appears at Cancer Kid Support Group, Hazel's story is about to be completely rewritten.
Goodreads rating
: 4.49 stars and over 800,000 ratings.
Genres:
Young Adult, Romance, Contemporary, Book Club, Realistic Fiction
Get the Book:
Amazon
,
Book Depository
,
Review:
Edited 11/24/2016
I didn't want to read this book. I swear I didn't. I hate sappy tearjerker books. At the request of two friends on the same day, and seeing the trailer for the movie, I decided to read it. I started reading The Fault in our Stars by John Green and told myself I wasn't going to like it. I said to myself that it was a Walk to Remember rip off, and it was going to suck. Yeah, about that.
This book hit me in so many ways. First off I grew up about a half hour from where the book takes place. I've been away from Indiana for five years now, so this book made me so incredibly homesick. It gave me a lot of nostalgia because Castleton was one of the places me and my friends would sneak off to when we were old enough to drive but told not to leave our tiny town of Anderson, Indiana. I never thought I would be homesick for Indiana, but I am right now. Thanks, John Green.
While reading this book, I prepared myself for Hazel to die. I just thought it was a given that this sick girl was going to pass on. I had all kinds of events drummed in my head that was going to happen, she was going to die in Amsterdam after her dream came true, she was going to die mid-sentence, like the character in her favorite book. I was so utterly unprepared for what happened.
I think one of the things I loved the most about this book is that it's funny. One of the friends who recommended it to me told me I'd enjoy the humor in it. I didn't believe her because cancer books aren't supposed to be funny. But even though the book had it's super sad parts, it was lighthearted and funny. I also think that's what I loved about Hazel. Yes she has cancer, yes she's terminal, but she goes about making jokes and acting like it's no big deal. She just does what she does and accepts it. This was a slap in the face for me because here we have this girl who, let's be honest, is in a shitty predicament, but she doesn't complain much about it. She accepts what's going to happen to her and tries to make the best out of what time she has left. Because of that, I found myself evaluating my life. In a cliche (and morbid) sense none of us really know how much time we have left, and yet how many of us waste the day away pissing and moaning about everything that's wrong with it? I know I certainly do. I'm not sure where I'm going with this, but the book was an eye-opener for me.
I'm trying to do this without spoilers... One of the friends (Hi, Lesaphine!) who recommended this to me just asked what my favorite and least favorite parts were about the book. I had to think a moment, but what I came up with is a contradiction (I love contradictions.) I love the brutal honesty of the book, in the sense that it shows you that just because someone is sick, dying, or dead doesn't mean we have to make them into heroes. Some people are just awful people. Period. In the same sense, this is also my least favorite part. Just because something is honest, doesn't mean it won't hurt. It still hurts to watch these people be awful and honestly doesn't make that any easier to deal with it.
So yeah. That's about all I have. Now I'm going to be emotional and cry into a bowl of ice cream.
Five out of Five Moons