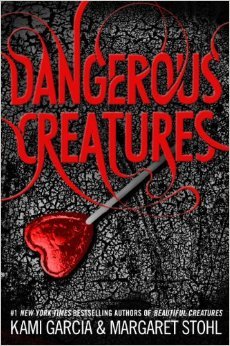 Goodreads Summary:
A new series returns to the world of Beautiful Creatures. Some loves are cursed...others are dangerous.
Ridley Duchannes will be the first to tell you that she's a bad girl. She's Dark. She's a Siren. You can never trust her, or even yourself when she's around. Lucky for her, Wesley "Link" Lincoln can never seem to remember that; quarter Incubus or not, his heart is Mortal when it comes to Ridley. When Link heads to New York City to start a music career, Ridley goes along for the ride-and she has her own reasons. As if leaving small-town Gatlin for the big city, trying to form a band, and surviving life with a partially reformed Siren isn't hard enough already, Link soon learns he has a price on his head that no Caster or Mortal can ever pay.
Kami Garcia and Margaret Stohl, the #1 New York Times bestselling coauthors of Beautiful Creatures, are back and casting another magical spell. Their signature mixture of mystery, suspense, and romance, along with a dash of fun and danger, will pull fans in and leave them begging for more.
Goodreads Rating: 3.82 stars with over 5,000 ratings.
Genre Listing: Young Adult, Fantasy, Paranormal, Romance, Magic, Supernatural, Witches, Fiction
Get the Book:
Amazon
,
Book Depository
my other reviews of Kami Garcia/ Margaret Stohl's books: Beautiful Redemption, Beautiful Chaos, Beautiful Darkness
Review:
Good grief, I feel like it's been a while since I've finished a book. Yet again, I've been really busy. My reading has been limited to a couple of chapters during my lunch break. Just so you all know, there use to be a time when I read like 2-4 books a week. I had 0 life beyond reading. Good times.
Anyways, I'm surprisingly disappointed with this book. I think that my excitement for this book got the best of me. I absolutely adore the Beautiful Creatures series, and really wanted a Ridley story. This just fell short for the hype I created in my head. I thought that I was going to get this amazing story about Ridley being a badass. That was unfortunately not what I read.
In the previous series, some of the dialogue bothered me, but I could get past it. The dialogue in this, however, was awful. I think they somehow managed to make Link seem even more like a dumb hick. I was really hoping for Ridley to just be a strong character and really put her Siren powers to the test. She barely uses her powers in this book. I think it mentions her using them once. The whole book is just her feeling sorry for herself and being not knowing who to fawn over more; Link or Nox.
I felt like the connection between Ridley and Nox was insanely obvious. That, among other "twists" in the story, just didn't get my heart racing. I felt okay about the book when it started, but as it progressed I just found myself liking it less and less. It was okay, but there just wasn't really anything to make me love it. Honestly, I think the Caster world should have just been left alone after the last Beautiful Creatures book. I most likely won't read the next book in the Dangerous Creatures series, which is really hard for me to say.
two out of five moons