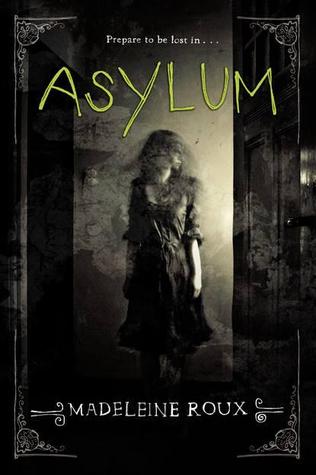 Goodreads Summary:
Asylum is a thrilling and creepy photo-novel perfect for fans of the New York Times bestseller Miss Peregrine's Home for Peculiar Children.
For sixteen-year-old Dan Crawford, New Hampshire College Prep is more than a summer program—it's a lifeline. An outcast at his high school, Dan is excited to finally make some friends in his last summer before college. But when he arrives at the program, Dan learns that his dorm for the summer used to be a sanatorium, more commonly known as an asylum. And not just any asylum—a last resort for the criminally insane.
As Dan and his new friends, Abby and Jordan, explore the hidden recesses of their creepy summer home, they soon discover it's no coincidence that the three of them ended up here. Because the asylum holds the key to a terrifying past. And there are some secrets that refuse to stay buried.
Featuring found photos of unsettling history and real abandoned asylums and filled with chilling mystery and page-turning suspense, Madeleine Roux's teen debut, Asylum, is a horror story that treads the line between genius and insanity.
Goodreads Rating:
3.63 stars with over 24,000 ratings
Genre Listing:
Horror, Young Adult, Mystery, Paranormal, Fiction, Fantasy, Thriller, Supernatural
Get the Book:
Amazon
,
Book Depository
Book Challenge progress:
Pop Sugar
, A book that Takes place in Summer 5/40
Edited 12/1/2016
I feel like I've spoiled myself these past couples of weeks. I've now finished THREE books. Woohoo! I picked up Asylum a while ago after reading Miss Peregrine's Home for Peculiar Children. It as a recommended read after finishing it.
I'm sad to report that I'm pretty disappointed with this read. I was hoping for a lot more of a creepy factor but unfortunately felt everything was predictable. I had a lot of the plot twists figured out pretty quickly into the Asylum, which made it kind of dull for me to read. I didn't hate it. I still wanted to read it and know what happened, but I just wasn't impressed. If I could sum this book up in one word it would be "Eh" and followed up with a shrug.
The characters bothered me. They were very cliche and left a lot to be desired. I found Abby to be ungodly annoying and irrational. I couldn't deal with her mood swings. For being the main character, I found Dan to be incredibly lame. Jordan was okay, but not great. I didn't feel like any of them had much depth to them. I didn't feel like they made me want to read more about them. Honestly, I just wanted to see how creepy the book got. Creepy factor was a solid 3 out of 10 for me. :(
I'm not sure what would have warmed me up more to this book. I would have liked it to be scarier. I'm guessing it was pretty tame due to it being a YA. Better characters would have been good. Maybe some more on the weird stuff that was going on with Jordan. I don't have much for it.
I don't know if I'll read Sanctum or not. If I do, it will probably be one of those situations where I just randomly started thinking about the book, and not necessarily because I want to read it. Didn't love the book, didn't totally hate it. Giving it a 2 out of 5 moons. It seems a little harsh, but I don't feel that it warrants three moons.